After the release of E2B(R2), the ICH realized that technical specifications should no longer be developed in isolation. E2B(R3) is the first technical specification to be developed through a new collaborative approach.
E2B(R2) Vs E2B(R3): Regulation and Interoperability
The International Organization for Standards (ISO), Health Level Seven International (HL7), and European Committee for Standardization (CEN) collaborated to form the Joint Initiative on SDO Global Health Informatics Standardization, through which a single, common standard for the ICSR could be advanced. Subsequently, the Clinical Data Interchange Consortium (CDISC), the International Health Terminology Standards Development Organisation (IHTSDO), and GS1 became members of the Joint Initiative. ICH representatives have also been heavily involved.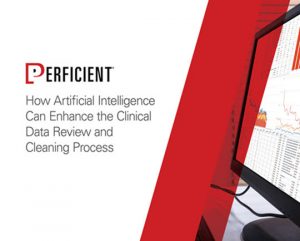 This guide analyzes how artificial intelligence – including machine learning – can be used by pharmaceutical and medical device companies to improve the clinical data review and cleansing process.
The overall standard is based upon a HL7 ICSR model that is capable of supporting the exchange of messages for a wide range of product types (e.g., human medicinal products, veterinary products, medical devices).
The real benefit of E2B(R3) is interoperability, which ultimately better protects patients and consumers.
Since E2B(R3) is based on HL7, a variety of clinical systems will be able to use it to exchange data with each other. With this new structure, more data can be passed to regulatory authorities or marketing authorization holders, making the information much more valuable to all parties involved.
READ MORE: What Is E2B(R3)?
Life Sciences Leaders Turn to Us
Life Sciences leaders rely on us for strategic and technical expertise to achieve their missions in a technologically advancing industry. Our experts are here to support you in achieving your business goals and solving your most complex technology challenges. 
To learn more about E2B(R3), the impact it is likely to have on drug safety business processes, and some ideas for how to move forward, fill out the form below or click here. Contact us, to discuss your specific needs,