Navigating software development, developer culture, and accelerated innovation is a constant challenge for forward-thinking organizations. With customers demanding more and executives looking to innovate faster, technical staff can be strained and need the necessary technologies to move forward without being overwhelmed.
We understand these challenges and has announced three new partnerships with vendors Pivotal, CloudBees, and Sonatype. These three firms are committed to helping organizations accelerate innovation in the cloud, reduce development chaos, and continuously integrate processes and flows.
"We are excited add announce these partnerships with Perficient", stated Vishal Rajpal, General Manager, Smarter Process, Connectivity, Cloud, and DevOps at Perficient. "These companies bring additional value to our cloud-first strategy which enables our customers to innovate like never before."
Our new partnerships bring the following:
Pivotal delivers a cloud native platform, helping developers and operators deploy software and consume services through microservices, containers, open source technologies, and continuous delivery. Certified by the Cloud Foundry Foundation, the platform transforms your DevOps team by creating structure that aligns behaviors, wants, and needs.
CloudBees Jenkins Platform is all about continuous integration and delivery, offering open source automation and integration at enterprise scale. Your organization will be able to deliver better software faster, satisfying the needs and interests of your customers.
Sonatype creates a software supply chain under their Nexus product line, reducing the chaos in your DevOps activities with the best resources on the marketplace. From sourcing and managing superior components to using them to build and maintain applications at scale, your organization can connect and improve without worry.
We believe that the work these firms are doing is just the beginning as cloud hits a fever pitch. According to research firm Gartner, hybrid cloud deployments are expected to reach 50% adoption by 2017, with additional value obtained through complementary industries like the Internet of Things and cognitive cloud.
"The time is now to jump into the cloud", continues Rajpal. "There are only a few times in the course of technology where opportunities arise, and I believe this is one of them."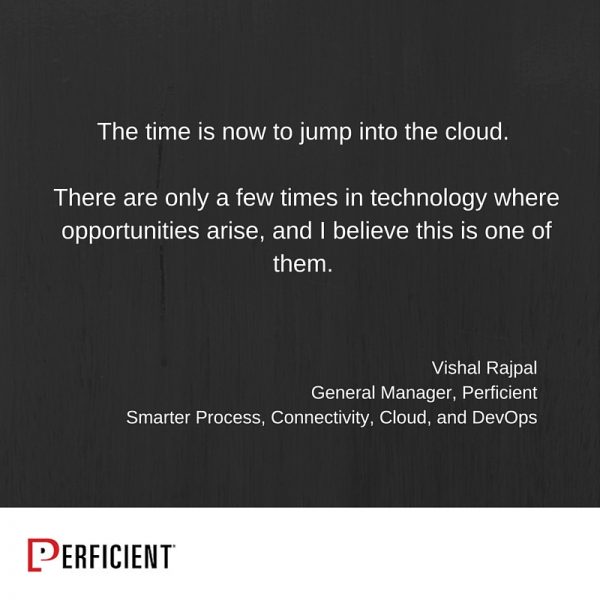 Is accelerating your organization's innovation on the to-do list for this year? Get in touch with us at sales@perficient.com today and see what we can do for you.