In my last post I detailed the features of Oracle Data Visualization Desktop, which is an added feature that comes with the Data Visualization Cloud Service, Business Intelligence Cloud Service and is part of the Data Visualization add-on to OBIEE 12c.  Even if you don't have a production license, an evaluation copy can be found on the Oracle Tech Network: http://www.oracle.com/technetwork/middleware/oracle-data-visualization/downloads/oracle-data-visualization-desktop-2938957.html .  Simply download the tool and installation is extremely easy through a standard Oracle installation wizard.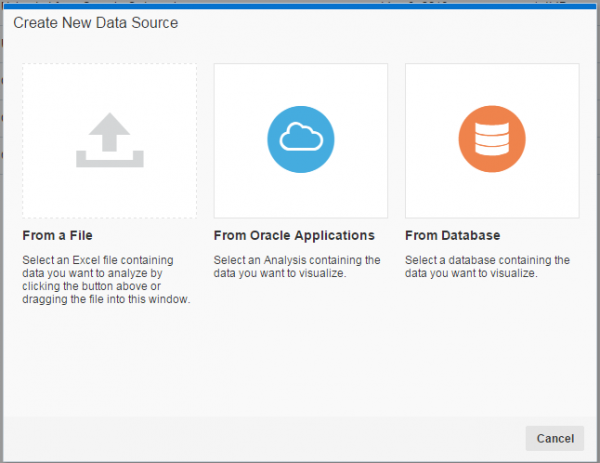 One of the features of the tool is the ability to get data from "Oracle Applications".  The cloud icon may fool you into thinking that this is just for getting data from Oracle's ERP Cloud, HCM Cloud, Sales Cloud, etc. but that is not entirely the case.  Oracle Data Visualization Desktop certainly has the ability to connect to Oracle Cloud Application OTBI environments to get data, however, you can also get data from your on-premise OBIEE environment.  In this post, I will show how to connect to an OBIEE instance and create a basic visualization.
First, Create a New Data Source and then click on From Oracle Applications.  Now click Add Connection where in this dialog you enter your OBIEE url, user name and password as you can see below:
Now I can see the web catalog and can select an Analysis to act as my data source.  Power users can even write Logical SQL (or copy that from OBIEE) to create a data source.
I now select the Analysis I want, in this case it is a list of SAT scores over time.  Data Viz Desktop loads the data into the Select an Analysis viewer where you can tell the system if the field is an Attribute or a Measure.
I can now see the SAT Test Score Data Source from my list of Data Sources in Data Viz Desktop.
Now when I want to create a new Data Viz document, I select the SAT Test Score Data Source from this dialog:
What's great about Data Viz Desktop is that I can also add data from sources not in OBIEE, this includes everything from Big Data to third party cloud apps (see my previous post for details).  What this allows me to do is create complex data mashups inside of Data Viz Desktop.  For the simple data set I imported from my on-premise OBIEE environment, I'm now able to create data visualizations using the simple yet powerful Data Viz Desktop application: