Migration to the cloud is a challenge for many organizations. Between selecting the appropriate solution, training employees, and integrating technology into day-to-day activities, business leaders find themselves facing a long laundry list of items.
We understand this challenge and have developed the Innovation Lab to ease the transition. To understand where the cloud industry is headed, we sat down with our Joel Thimsen, Director of Cloud Strategy about the Innovation Lab, our award-winning Immersion Solution, and the direction of the cloud industry. Our interview is below, and he will also be in Pittsburgh on June 22nd for IBM's Hybrid Cloud Innovation Forum where you can learn more about formulating your cloud strategy. Register for free here.
Thanks for taking the time, Joel. Why do you think cloud is such an important business priority for executives and technology teams today?

Cloud is important in two areas of business, the technology push and consumer pull and its impact on the bottom line. As a fundamental driver in the
market, digital technology has pushed for advancements in the market including the Internet of Things (IoT), Big Data, and the growth of cloud as a whole. Consumers are also driving innovation in cloud because of the connected experience, where they are able to do everything from hail a cab to manage their finances from their cell phone. As consumer tastes evolve, businesses must build the technologies to match.
From a business priority, cloud offers financial advantages, allowing IT to move capital expenditures to operational expenditures, minimize their carbon footprint, scale loads with varying capacities, and provision elastically especially for smaller businesses. Businesses further along in their digital journey view cloud as an innovation platform where they can iterate on new ideas quickly and seamlessly.
Perficient has been helping companies with their transition into the cloud. What are we doing to facilitate the process and why is our involvement so important? 
We are committed to helping our customers migrate into the cloud. We engage them early on in their transition, even when they are determining what kind of value cloud solutions could bring to their organizations, including security concerns. We address many of their initial thoughts, commitment, and value for both sides.
Once a decision has been made to migrate, we address tactical needs, including the right platform, workloads, organizational roles, governance, maintenance, and much more. Much of this consultative work is done through something called the Innovation Lab.
Tell us more about the Innovation Lab. What is it?
The Innovation Lab is our program that offers organizations the necessary processes to adopt cloud solutions with ease. In a 2-8-week process, we work collaboratively with developers and solution architects to provide the experience of developing applications on cloud platforms, encourage innovation, and create an appropriate plan for adoption.
All of the work is done through three phases: Discovery, Agile Realization, and Adoption Planning where we respectively explore cloud solutions, assess platform capabilities, and strategize on organizational integration. Each phase focuses on producing something real, quickly and effectively through a lean and iterative approach focused on and incorporating feedback quickly into the process.  The cloud is an enabler for our customer's journey not a destination and as such it's not a one-and-done process. We've seen the most success from focusing on manageable chucks of work and incorporating what we've learned, good and bad, back into the process.
With so many cloud platforms on the market, how does Perficient ensure our clients select the right platform and ensure that teams are ready for innovation?
Perficient approaches the selection of cloud platforms from an area of innovation. This echoes the research conducted by research firm IDC, who found that organizational innovation originates most often from three areas: 1) within the company, 2) cloud service providers, and 3) data technology providers.
We understand that selecting the right cloud platform is a challenge in itself and requires moving beyond strategic thinking. We take a real hands-on approach to platform selection and discovery. This process employs a lean and iterative approach that is similar to building a new application and brings the adoption process beyond what is written down on paper.
You also mentioned that the Innovation Lab includes three phases. Can you dive deeper into what each of these phases include? 
All of the work is done through three phases: Discovery, Agile Realization, and Adoption Planning. Here are the details of each of these phases:
Phase 1: Discovery
Key Activities
Identify list of candidate cloud platforms to evaluate
Inform and educate participants and key sponsors
Present Cloud Platform Innovation Lab approach
Preparation of Cloud platforms for lab activities
Cloud platform immersion training
Define preliminary use cases for implementation on the platform(s)
Phase 2: Agile Realization
Key Activities
Sprint Planning
Minimum Viable Product (MVP) for each Use Case
Use Case Weekly Demos and Leadership Updates
Use Case Closure Reports
Phase 3: Adoption Planning
Key Activities
Innovation Lab close-out report
Platform selection
Adoption strategy and plan
Community of Practice event
During these phases we require a scrum master, solution architect, and cloud application developer.
What else are we doing to help our clients move into the cloud? 
We're also helping our customers move to the cloud with the Immersion Solution, an elastic continuous cloud migration solution that provides powerful capabilities to migrate existing on-premises applications to various cloud platform. While alternative solutions require significant time focused on code changes and QA validation, our Immersion solution enables an automated delivery pipeline, application templates, processes, and solution blueprints that will migrate all applications, no matter their age.
The Immersion Solution helped us win a Beacon Award at the 2016 IBM Interconnect.
>
Where do you see cloud headed in the next several years? 10 years? 20 years? How do you think cloud technologies intersect with other ongoing enterprise trends including the Internet of Things (IoT) and virtual/augmented reality?
Cloud is here to stay. As technology continues to progress, I believe that we'll stop using the word cloud and simply refer to it as computing. These days, cloud is supporting everything, from Blockchain technology to augmented and virtual reality. As these technologies become more commonplace in our day-to-day lives, we will see continued layers of abstraction and worry less about infrastructure layers.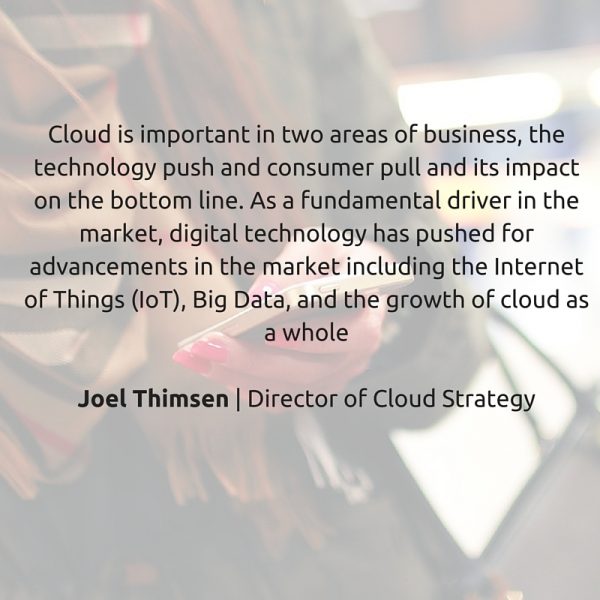 For more information on our Immersion Solution, click here and here.
For more information around our IBM practice, click here.