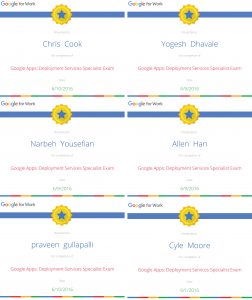 Cloud-based productivity solutions are becoming more and more prevalent in the enterprise. Perficient's consultants are keeping pace by adding new skills and certifications in this area to better assist our clients.
This month six Perficient technical architects achieved their Google Apps Deployment Services Specialist certification, empowering them to work with our clients as they transition critical business functions to the cloud.  Chris Cook, Yogesh Dhavale, Praveen Gullapalli, Allen Han, Cyle Moore and Narbeh Yousefian all passed their certification exam, which covers the following topics:
Planning and Designing a Google Apps Deployment

Provisioning domains, users, groups, org units, and other resources

Configuring and managing mail routing

Migrating data to Google Apps

Configuring and managing Google Apps services and associated settings

Implementing and managing authentication and security

Configuring and managing mobile devices

Configuring and managing coexistence

Ensuring Customer Success Post-Deployment
Congratulations to these team members for their hard work and dedication to our clients.  If you have any questions about whether Google Apps is the right solution to transform your business, please contact us at GooglePractice@perficient.com.