Coveo released version 4 of their Coveo for Sitecore product today and we're all very excited about this new release. We've been very impressed with the Coveo product as it brings enterprise-grade search capabilities to Sitecore as well as provide a bevy of connectors to other platforms. With this new release, Coveo has made a number of enhancements to make deploying and configuring the product easier and better for consumers and developers alike.
This new release of Coveo for Sitecore brings a huge feature which I personally have been waiting for – the integration with the Coveo Cloud platform. Coveo has had this cloud platform for some time now but largely only for Coveo for Salesforce implementations. Now, Coveo has brought the power of this platform to the Coveo for Sitecore product bringing with it an easy-to-use web-based configuration tool, deep analytics, and easier management.
For developers, this is huge. For the installation of a new Coveo instance, there is no more need to install Coveo Enterprise Search and the Coveo Search API – all that is necessary is to install the Coveo for Sitecore package in your Sitecore instance and the installation handles the rest. The indexes for the instance are created and configured in Coveo Cloud and the appropriate connections are configured in the .config files. License files are all managed in the cloud so when upgrading or relicensing, Coveo will handle it on their end and there is no more need for emailing/installing license keys. One very special enhancement near and dear to my heart is that the installer will also give you the option to automatically rename the .config files to remove the .example suffix – one less step to not forget to do! Coveo for Sitecore 4 also includes the new 1.0 version of the JavaScript UI libraries so the Coveo Sitecore renderings have gotten enhancements as well.
For consumers, this brings a wealth of information and configurability to an organization. Where previously a lot of the configuration was done in XML files and typically required someone with technical capabilities and access to the servers, Coveo Cloud provides a web-based interface to view search analytics and make configuration changes that instantly propagate to the indexes. Coveo Cloud also generates a number of charts and graphs detailing the statistics of the search index. This allows business stakeholders visibility into how search is being used, how often search is used, and perhaps make improvements to an organization's information architecture based on the data generated from the search analytics. Also, there are the cost savings that come with a SaaS product – no more having to manage infrastructure, worry about scaling, or deal with security concerns.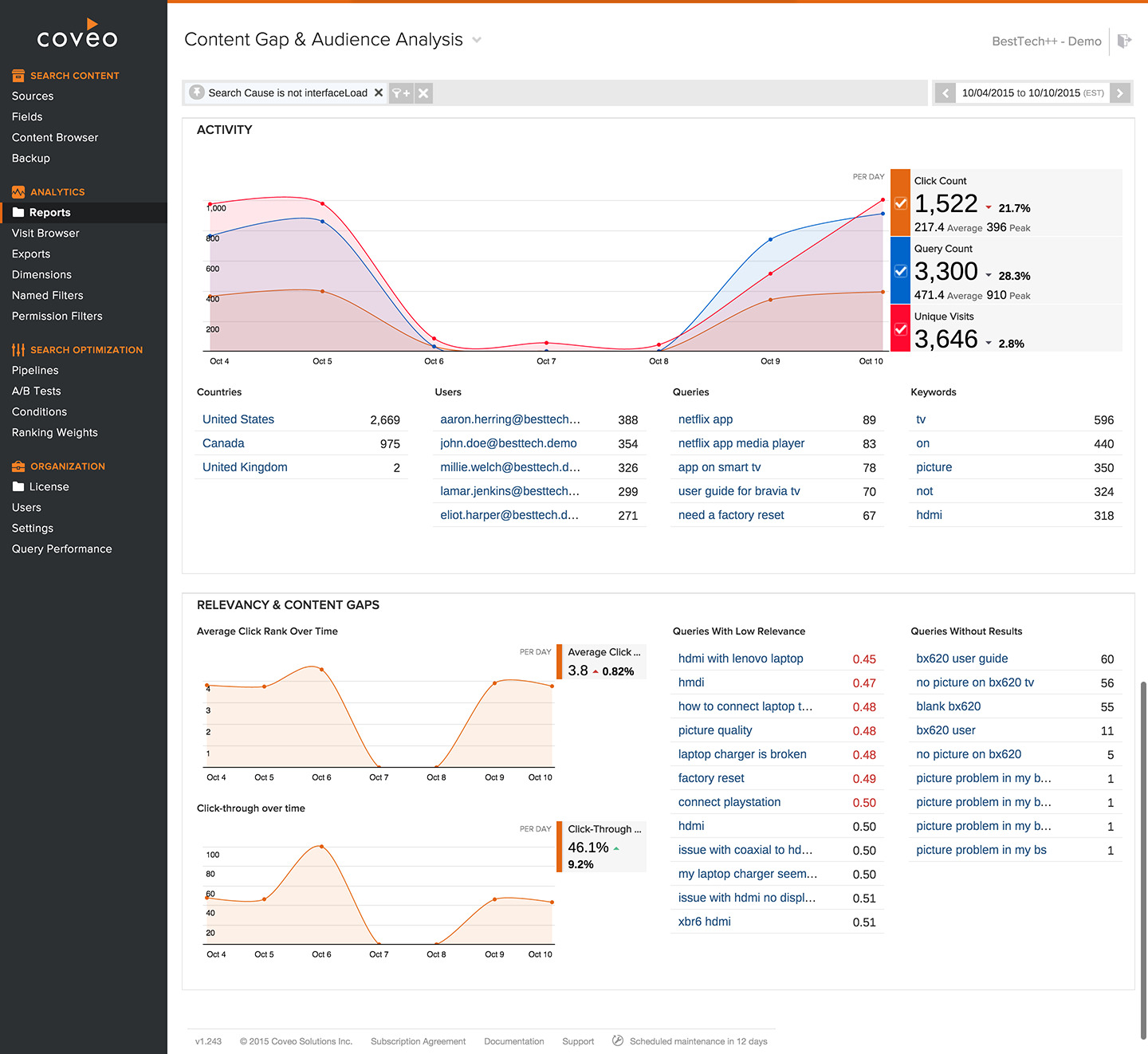 Coveo has also enhanced its machine-learning service now called
Coveo Reveal
. Coveo Reveal uses machine-learning to analyze search results and can be set to automatically tune search relevance for results based on search. For example, if users often searched for a particular term but the result they were mainly looking for might not be at the top of the search results, Coveo Reveal will detect this and tune its relevancy sorting to cause that result to turn up higher for future searches with the same term. Additionally, this also helps in scenarios where no results are returned – Coveo Reveal analyzes future searches and learns to display results that might not match specific keywords as results so that it's less likely your users will not have results returned for a search query.
The free version of Coveo for Sitecore has been retained for version 4, however, it only supports an on-premises installation. To take advantage of Coveo Cloud, a Pro Cloud license will be required. All future development will be on the new v4 platform so definitely start making considerations to upgrade!