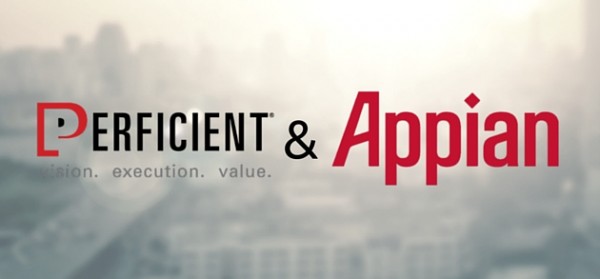 Perficient is proud to announce a partnership with Appian Corporation, a leading provider of a modern application platform for Business Process Management (BPM) and case management solutions. Appian is a technology platform – grown from business process management – for building custom business applications.
Based in Reston, VA, Appian enables organizations to easily build, use, change, and expand powerful enterprise applications to address critical business challenges. This platform seamlessly integrates work automation with on-premises or cloud delivery for business process management applications, data management, native mobility, and social capabilities through a low-code development approach.
Traditionally, BPM implementation approaches have been programmer-centric and procedural focused, but has shifted to digitizing operational processes. The next generation of BPM is providing value through user-centered/customer-focused approaches that address challenges related to front office functions such as customer experience and digital business. The Appian technology platform enables organizations to build critical business applications that can be accessed across desktop, laptop, smartphone, and tablet devices in order to:
Accelerate time to market
Increase collaboration
Optimize operations
Improve customer experience
Gartner, Inc. has rated Appian #1 in BPM and Platform as a Service and was named a Leader by Forrester Research for their Dynamic Case Management solutions.
Perficient has built a strong reputation in the digital transformation evolution for identifying and solving customer problems with BPM solutions, and this partnership further strengthens Perficient's business optimization expertise.
Perficient is offering the following services on the Appian platform:
Advisory Services – A starting point to help execute enterprise-wide transformation initiatives.
Appian Project Launch – A service for customers seeking to jumpstart their BPM or custom application project on the Appian platform.
Appian User Experience Design & Build – A way to accelerate the delivery of intuitive user interfaces that facilitate the business decision.
Appian BPM & Implementation – A service for customers looking to build simple, powerful business processes on the modern BPM platform.
Appian Enhancements – An offering for enterprises looking to add more features or gain adoption to maximize their investment in Appian.
The execution of these services is all based on Perficient's outstanding Enable technology delivery for building web and mobile enterprise applications, system integration, custom development, client mentoring,​ and change management process using the Agile methodology. Perficient also offers technology-agnostic services and platform selection assessments.
Contact Meghan Williams with any questions.