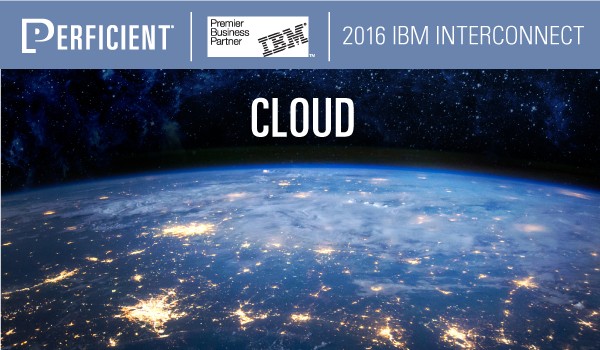 Today, InterConnect 2016 kicked off with the IBM Business Partner Summit at the MGM Grand in Las Vegas. Peers share their stories of innovating with IBM solutions and bringing exceptional value to their clients. Vishal Rajpal, general manager of Perficient's Cloud and DevOps practice, had the opportunity to speak during the opening session and shared details on Perficient's success with IBM Bluemix, IBM's cloud platform-as-a service, and hybrid cloud portfolio.
"Cloud and digital transformation are part of everyday conversation as enterprises look for faster time to market and improved customer experiences," said Vishal.
Vishal went on to highlight how Perficient helped a healthcare customer transform their business by leveraging IBM Bluemix and the cloud as the foundation to drive digital transformation. "It all started roughly 6 months ago when we were asked to come in to help guide them on the execution road map for their digital transformation journey," Vishal explained.  With an existing platform that was difficult and costly to maintain or change, the client looked to the cloud for a platform that would provide business agility and enable personalized user experiences with new applications.
Our Solution
Perficient combined IBM's digital innovation platform, Bluemix,  with our Immersion cloud migration as a service offering to achieve all of these goals for the client. Bluemix enables the creation of new applications in the cloud while Immersion migrates existing on-premises applications to the Bluemix platform.
The implementation process started with rapidly prototyping "a real application with database connectivity, security, and integration with APIs in a single sprint," said Vishal.
The Results
Not only was the client now able to build highly innovative, personalized applications quickly, but they experienced a 38% increase in velocity when compared to traditional clo
ud migration approaches.
Vishal concluded, "We are still on the ground helping integrate complex scenarios involving Watson Services, DevOps, Big Data-based integrations and helping ensure that we guide our customers to innovate faster to not only transform their organization but be a leader in the healthcare industry."