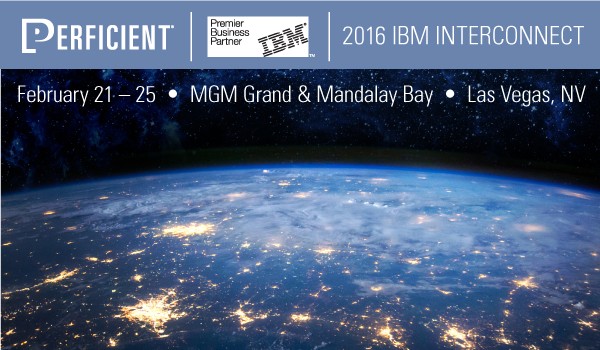 IBM InterConnect, the premier IBM user conference, is quickly approaching, and we're excited to connect with you at the event. Perficient is proud to be a Gold Plus Sponsor of IBM InterConnect 2016, which is being held February 21-25 in Las Vegas. Visit us at booth 364 in the Solution EXPO, where you can learn how we've leveraged our extensive expertise in the IBM portfolio across digital experience, business optimization, cloud, and IoT.
Perficient, a Premier IBM Business Partner for nearly 20 years, leverages our vast portfolio of IBM-certified solutions, cross-brand technology expertise, industry practices and in-house creative digital agency for impressive results. These solutions allow customers to unlock the greatest value and insight into their organizations' structured and unstructured data, resulting in dramatically better business outcomes and decision making.
We have a great line up of sessions for this year's conference, where you can meet with subject matter experts and thought leaders.

JOIN OUR 2016 INTERCONNECT SESSIONS
The State of Asset Management in the IoT Age
Sunday, 2/21 | 3:10-4:00pm
As traditional methods become ineffective, how can asset management adapt for the future?
Migrate Existing Web Services and Build Native Microservices in Bluemix
Wednesday, 2/24 | 12-1pm
With a myriad of options to build APIs and web services, what's the benefit of migrating and building new apps on IBM Bluemix?
Kroger's Move from webMethods to IBM Integration Broker
Thursday, 2/25 | 11:30am-12:15pm
Hear the lessons learned in Kroger's migration along with guidelines and best practices for your own success.
NOT ATTENDING INTERCONNECT?
If you're not able to attend the event, stay up to date on conference topics by following us on social media and our IBM blog. Our
experts will frequently post the latest news and trends on cloud, IoT, digital experience, and business optimization sessions.
Engage with us on Twitter by using @Perficient_IBM and the hashtag #IBMInterConnect. At the top left of this page, you can also subscribe to our weekly IBM blog digest to receive a comprehensive recap of conference posts.