When it comes to choosing the right Cloud BI platform, there is usually a trade off between governance and centralization on one hand and agility on the other. BI software vendors like Tableau and Qlik, that are relatively newer to the game than traditional BI platforms, have changed the rules of what defines a better BI tool by tailoring their platforms for business users. This is however most often happening at the expense of proper data governance. In other words, the newer vendors are lacking when it comes to scaling out to address enterprise-level reporting with centralized security and performance considerations. On the other hand, traditional BI providers while providing the means to scale and govern, are challenged to stay in pace with how newer agile vendors are addressing the ever-changing business needs. In the rest of this blog, I aim to present how Oracle is positioning its BI products to succeed with its highly scalable and governable BI platform and also offer the agility and pervasiveness that are essential when navigating today's world of numerous options for business analytics.
1- Security: Security is at the forefront of data governance. But when analytics meets agility with the more recent BI vendors, this is most often happening with less consideration for security. With Oracle, a comprehensive security model that offers object-level as well as data-level security has always been in the backbone of its BI products. And this trend has extended into the Oracle BI Cloud Service (BICS) as well. BICS allows defining user roles each with well-defined boundaries as to what reporting objects, which slices of the data and what self-service capabilities users get access to.
2- Enterprise Quality Analytics in the Cloud: Another major aspect of information governance is enabling organizations to perform enterprise level reporting across their various functions and departments while maintaining high levels of confidence in the reported numbers. For example, how do you make sure that Margins and Profitability reporting on one side of the house are consistent with everyone else? Since decades ago the Oracle BI platform has been a leader in that. More recently, Oracle BI Cloud leverages the same concept to enable organizations to build a semantic layer for their enterprise reporting needs thus making sure that information sharing and propagation is not only cross-functional but more importantly reliable. For example, BICS's semantic data model can source sales pipeline and leads data from Salesforce and blend it against financial data from another Cloud or on-premises ERP system. This is something you won't find for example in Tableau. While the semantic layer is essential for standardizing enterprise data, BICS offers great agility by allowing business users to discover outside the semantic layer, for instance to analyze non-enterprise data (like data downloaded from websites, provided by vendors or based on ever changing market research). Its a tricky terrain when it comes to balancing governance with agility and I think based on the situation at hand Oracle BICS is positioned to offer the best of both worlds.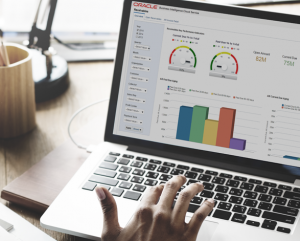 Explore key considerations, integrating the cloud with legacy applications and challenges of current cloud implementations.
3- Scalability: There are several inexpensive BI tools on the market that allow business users to do analytics. But when it comes to scaling out to enable hundreds or thousands of users to do analytics and share results across the organization, that is where Oracle is able to fill the gap whether from an analytical platform capability or the underlying database perspective. Oracle's 50GB smaller scale and less expensive database option can be upgraded to a fully featured Oracle DBaaS. While currently BICS offers a single subject area to model enterprise data, in a few weeks Oracle will be upgrading its cloud service to enable multiple simultaneous data models/subject areas just how things are with the on-premises OBIEE.
Another enhancement to BICS that is expected soon from Oracle is more seamless integration with Cloud Applications. Adapters to various Oracle Cloud Apps will allow business users to point their Data Visualization project in BICS to source data from Oracle HCM or ERP Cloud for example without IT's help.
4- Performance: At the core of BICS is an engine that has proven its effectiveness in handling performance issues through its long history with on-premises implementations. Faster response times for high level aggregations are achievable through Oracle Database's multi-dimensional capabilities. In addition, BICS entails results caching that tremendously reduces response times with less hits to the database. Moreover, what is on the roadmap is an Essbase Cloud Service from Oracle. As this new service gets rolled out and with a strategy to integrate BICS with the Essbase Cloud Service, reporting on pre-aggregated cube data in the Cloud becomes a no-brainer for resolving the requirements of improved reporting response times on large volumes of data.
5- Self Service Data Visualization & Discovery: There is a user friendly interface to data that Oracle has adopted as the future of its BI capabilities already available in BICS and DVCS and soon to be available on Big Data Discovery Cloud. Eventually, Oracle will be using the same innovative data visualization for its Cloud Application transactional analytics featured in OTBI and OTBIE.
Tableau's data visualization capability which was hard to match a couple years ago have now been superseded with Oracle's Data Visualization features like data highlighting, brushing, and blending. With Oracle Data Visualization you can create multiple views(reports) simultaneously as you design the dashboard. There is no need to click in and out from one screen to another to design each report separately and then assemble the dashboard at the end. Whether you are working with reports that are simple tables or more advanced heat maps and geographical maps, its all done there together on the same screen in Oracle Data Visualization. The agility of this newly polished and highly interactive UI is not limited to data discovery but includes data sourcing. For example, business users can upload their own data and mash it up against enterprise data. Soon, business users will be able to directly connect from BICS to other Cloud Applications (such as ERP, HCM and Sales) and report on that data together with the rest of their reporting model without even leaving BICS.
6- Mobility: Oracle has had mobile BI applications for a long time now. These apps not only expose pre-built reports on mobile devices, but they also enable users to discover data. Oracle is also enabling yet a richer mobile experience by taking advantage of the unique capabilities of such devices such as location, touchscreen, user-specific activities and usage to render information and alerts that are most relevant to a specific mobile user.
7- Social and Collaborative Data Discovery: A key differentiation to agile BI is collaboration among different users. And this is a feature that Oracle is targeting in an upgrade that will allow users to share findings on dashboard information and enable storytelling, thus facilitating consensus building and decision making.
8- Strategy to Integrate Cloud BI with On-premises Data Sources: While Cloud SaaS and PaaS adoption is increasingly spreading, many organization are still wary of storing their data in the Cloud. In other cases, a data warehouse may already exist on-premises. BICS's Remote Data Connector (RDC) allows direct reporting of off on-premises Oracle Databases without the need to first upload the data to the Cloud.
9- Advanced Analytics: One of the advantages of leveraging a BI solution from Oracle is getting accessibility to the various powerful features of the Oracle Database. One important capability is advanced and predictive analytics using Oracle R. However, these capabilities are not currently exposed in the BICS front end. This is something that is on the roadmap to incorporate R functions into the BICS user interface. Business users can eventually apply advanced formula such as for pattern detection, forecasting and predictive modeling.
I have presented here the 9 most important features of a successful Cloud BI platform, but of course there are many more. Embedding BI views within Cloud transactional systems and scheduling reports and alerts for example are important features that are within Oracle's strategy for BICS.