If you've been waiting to implement Argus Safety 8.x or upgrade your existing environment, the wait is finally over. While the new version was released last year, it takes several months to build a comprehensive validation suite, and I'm happy to announce that Perficient's life sciences group has completed that task.
On top of that, for those of you who are looking to implement Argus for the first time, I'm also thrilled to announce that we have our fully validated Argus 8.x master template instance all ready to go. We've already executed our validation suite against our template and, since we clone our template to install new environments, our clients are able to leverage the validation we performed, rather than needing to re-execute. The result? A huge time and cost savings for you.
To learn more about our Argus 8.x validation suite and master template, I interviewed Tammy Howard, a business consultant in our life sciences practice. 
Q. What is the Oracle Argus Safety 8.x validation suite?
A. Argus Safety 8.x is considered a major release that offers new features and functionality to help comply with ever-changing global regulatory requirements, so many sponsors and CROs have started to implement and upgrade to the new version.
Our drug safety and pharmacovigilance team, along with our validation group, has developed a complete validation suite that helps companies speed up their 8.x implementations or upgrades without sacrificing peace of mind or compliance.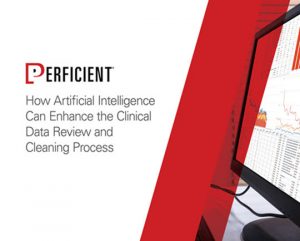 This guide analyzes how artificial intelligence – including machine learning – can be used by pharmaceutical and medical device companies to improve the clinical data review and cleansing process.
Q. What does the validation suite include?
A. It includes a variety of documents, including:
Functional Requirements Specification (FRS) that describes the out-of-the-box functionality provided by Oracle
Ready-to-execute Operational Qualification (OQ) Test Suite that tests all of the requirements in the FRS
Traceability Matrix that maps the OQ test cases back to the requirements they test
Q. Is the validation suite available for purchase?
A. Yes, the suite is available to purchase, and some of our clients do just that. Others prefer to lean on a partner, like us, for help.
Q. Why would a client want to partner with Perficient to execute the suite?
A. Since we're experts in Argus 8.x and we created the validation suite (and executed it on our master template environment), we're extremely efficient at test execution. We also have a long-term partnership with Oracle, should any issues arise during testing.
Additionally, some clients just don't have enough in-house testing resources, or resources with the right training and skills available at the right time.
And then there are clients who don't have resources available to manage the implementation or upgrade, let alone execute the testing, in which case they partner with us for project management, installation, and validation services.
Q. Tell me more about the Argus 8.x master template environment. How is it useful to clients?
A. The master template is most useful to new Argus clients. It's a fully validated instance of Argus 8.x that we clone when we install new environments. Because it's fully validated, our clients are able to leverage the validation from our master template for their own environments, meaning that they do not need to re-execute the validation suite as part of their implementation. That saves our clients a whole bunch of time and money, and gets them up and running with Argus Safety super-fast. If they opt to have us host their Argus Safety system, the implementation is even faster.
Q. Who should I contact to learn more about the validation suite, your services, and/or leveraging the master template?
A: You can email LifeSciencesInfo(at)perficient(dot)com or fill out this form with your request and we'll be sure to get back promptly.