Risk-based monitoring (RBM) continues to be a hot topic among sponsors and contract research organizations (CROs) for a variety of reasons, including the time- and cost-savings it can offer, as well as its ability to help keep patients safe.
Last week, Ashok Ghone, Ph.D., vice president of global services at MakroCare USA, wrote a column in Clinical Leader about the importance of risk management in clinical trials. He addressed tight research and development budgets and the need to maximize the return on investment during the clinical trial management process.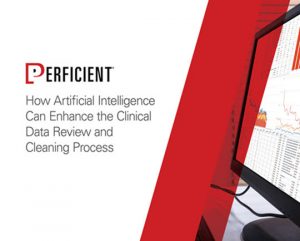 This guide analyzes how artificial intelligence – including machine learning – can be used by pharmaceutical and medical device companies to improve the clinical data review and cleansing process.
Ashok described risk management, a term under which RBM is classified, as a critical process to identify and assess potential risks from the beginning of a trial all the way through its closing, in an effort to reduce the possibility of experiencing hiccups that could hinder the study's objectives.
He also discussed the use of technology for RBM:
"The right technology can bring great efficiencies and effectiveness in risk assessment & management process[es]. As these are dynamic processes, they require proper technology that can catch various aspects and changing scenarios of the risks to get [the] full picture of the risks involved."
In a recent webinar, Param Singh, director of clinical trial management solutions at Perficient, shared several ways companies can leverage Oracle's Siebel Clinical Trial Management System for RBM. Using a piece of technology that many companies already have in their wheelhouse makes it an effective component in an overall risk management strategy.
To watch the webinar recording, click here or fill out the form below.