According to IBM, we generate 2.5 quintillion bytes of data every day. And, 90% of the data that exists today, whether found in your clinical systems, on social media, or on your mobile devices, has been gathered within the last two years. All of that is what we call "big data."
As the volume of data grows exponentially, so do the methods and tools we leverage to analyze that data, not to mention the learning and development strategies that are employed to increase the adoption of those tools. 
In a recent Health Data Management article, Andy De, managing director and global general manager of healthcare and life sciences for Tableau Software, shared his top three business intelligence (BI) and analytics trends for 2016.
Here are summaries of his key trends:
Trend #1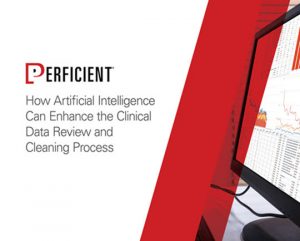 This guide analyzes how artificial intelligence – including machine learning – can be used by pharmaceutical and medical device companies to improve the clinical data review and cleansing process.
Advanced analytics will no longer be just for analysts.
Key takeaway: The "report factory" is dead. At least, it should be. BI and analytics tools are no longer meant to be used just by IT or analysts. They're for anyone who wants to dig deeper in the data at hand, regardless of where they fall on the tech-savvy spectrum. Today's interactive tools are simple to use and can provide a 360-degree view in real-time, resulting in time- and cost-savings.
Trend #2
IT and self-service analytics will become best friends.
Key takeaway: IT is still critical when it comes to the centralization of data. After all, who else is going to make sure your 5, 10, or 100 data sources are connected and/or aggregated for analysis? Not to mention, internal IT resources need to make sure the performance and security of these systems are up to par (unless they're hosted in the cloud with a third-party provider, in which the provider handles that). Think of IT as an enabler of self-services analytics.
Trend #3
More companies will adopt a Center of Excellence (COE) approach.
Key takeaway: Who in your company is enabling and encouraging users of BI and analytics tools? Who's responsible for training, governance, and sharing best practices? This is where a COE comes into play. According to Wikipedia, a COE is a "team, a shared facility or an entity that provides leadership, best practices, research, support and/or training for a focus area." Bottom line, a COE can help a company get the most out of its tools, keep users happy, and produce the best ROI.
—
If BI and analytics is of interest to you or your company, please join us for our upcoming webinar Interactive Business Intelligence for Big Data in Life Sciences.