An interesting thing happened in pharma and investing. It involved Regeneron and their July 24, 2015 FDA-approved cholesterol drug, Praluent. Forbes outlined the situation, which caused Regeneron stock to drop significantly, in a January 6, 2016 article.
According to Matthew Herper, a Forbes columnist, investors got a hold of data from the FDA's Adverse Event Reporting System, FAERS, and noticed eight suicides were indicated. Turns out it was bad data, containing all duplicate cases, except one, which happened to be questionable in the first place.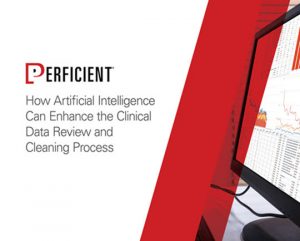 This guide analyzes how artificial intelligence – including machine learning – can be used by pharmaceutical and medical device companies to improve the clinical data review and cleansing process.
According to Forbes, the FDA made a statement regarding the matter:
"A search of the FAERS database for Praluent identified one case (with multiple duplicate reports–six reports in total) of completed suicide in a patient receiving Praluent. Given the presence of confounding factors including a history of depression, a causal association between the drug and the event could neither be concluded nor ruled out. A seventh report of completed suicide was also identified, and is also likely a duplicate of the first case, but this cannot be definitively concluded given the limited information contained in the report. One further case of completed suicide was identified from FAERS, but FDA was able to determine that the patient had never received Praluent. Two additional cases of suicidal ideation (not completed suicides) in patients receiving Praluent were also identified. FDA continues to conduct postmarketing safety surveillance for Praluent, as it does for all approved products."
Should companies, investors, and individuals stop trusting FAERS as a source of information? Not in my opinion, but we do all need to recognize its potential flaws and inconsistences. This reminds me of a Perficient webinar from 2014 about safety signal detection, in which the presenter discussed the importance of evaluating different sources for potential signals as part of a company's drug safety and pharmacovigilance processes. For more on signal detection and management, check out this interview with Dr. Rodney Lemery.
So many thoughts, so many lessons learned… Keeping data clean and accurate is essential, in any system. It's no secret that duplicate data can plague systems in every department of a company. And, unfortunately, that bad data can have a terrible effect on your business or, in this case, someone else's. In some cases, it could potentially impact the health and safety of the public. Poor data can cause good drugs to be taken off the market or be prevented from progressing in a clinical trial. On the flip side, inaccurate or bad data can also overstate the benefits of a drug, causing harm to those who take it.
This bottom line for pharmaceutical and clinical research companies? Take care of your data. Make sure it's as accurate as it can be.
The bottom line for consumers of clinical data? Understand that no data source can be 100% perfect all the time. Use a critical eye when evaluating data sources and the data they contain.