When it come to scheduling meetings with external parties, it seems like we fail to leverage technology more times than not. While there are several options available to make scheduling meetings easier, we almost always fail back to the default "what times work for you" conversations. This is everyone, I see it with clients, with our own company, even when scheduling meetings with Microsoft employees.
Perhaps one of the poorly communicated aspects of Microsoft Exchange / Office 365 is how much easier you can make scheduling meetings with attendees from outside your organization.
Below are three options (including one new one) that can help eliminate the "what times work for you" conversations…

Option #1: Organization Relationships
This first option will require involvement of both your IT staff and the external parties; the other options will be more suitable for more ad-hoc meetings. This is most suitable in situations where you have a long-standing relationship with the other attendees and provides for the most similar experience to scheduling time with internal employees.
Going back to Exchange 2010, we have had the option to use the "Microsoft Federation Gateway" and "Organization Relationships". In a matter of a few minutes, your IT staff can create an organization relationship create an organization relationship between your organization and the external party. From there, you can schedule the external party just like anyone internal. Depending on the permissions allowed, you'll see just the external attendee's free/busy information or more if allowed.
For organizations configured in hybrid mode, this option can be a bit difficult unless you have GAL synchronization in place as the external party would need an organization relationship configured for both your on-premises environment and Office 365 tenant. Additionally, they would have to address the target user via the appropriate platform as the free/busy requests are not transitive.
Option #2: Calendar Publishing
Without seeking assistance from your internal IT, you can publish your calendar via a URL and allow external parties to see your availability. While your IT admins can disable this feature, it's enabled by default. Within Outlook or OWA, you can select the option to "Publish Your Calendar" with access from "Availability Only" to "Full Details". Once published, you can send external parties the URL or they can subscribe to it via ICS.
Note: While this is the option I most commonly use, it seems to have a small nuance you should be aware of. I'm in the EST time zone and the URL that I provide to others has all the calendar entries in EST. So parties outside of your time zone will need to do the conversion manually which can at times become a headache. The ICS method does not seem to have this same issue.
Option #3: Microsoft FindTime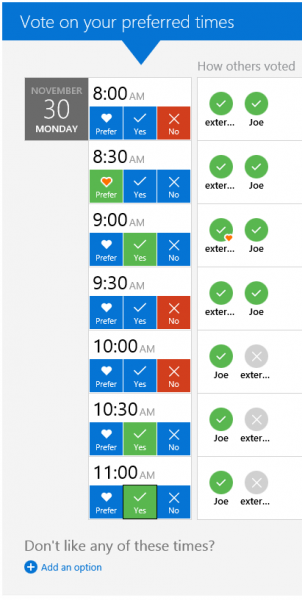 Earlier this month, the Microsoft Garage released an interesting Outlook Add-In called "Microsoft FindTime".
Available to Office 365 users, the application allows you to send invite requests from Outlook to external parties (they do not need to be on Office 365) and the attendees can "vote" on the meeting time. When sending the meeting request, you pick the duration and some prospective time slots; after selecting the time slots, they are all marked as "tentative" in your own calendar. The external attendees receive an email explaining FindTime and a link that allows them to mark a particular slot as "preferred" as well as acceptable or unacceptable.
Once the external attendees have voted, the meeting is automatically scheduled.
Summary
With varied levels of complexity and functionality, there are several options to assist with scheduling meetings with external parties. In all situations, the above options are better when it comes to trying to schedule a meeting with more than one external person.
Did you find this article helpful?
Leave a comment below or follow me on Twitter (@JoePalarchio) for additional posts and information on Office 365.
Looking to do some more reading on Office 365?
Catch up on my past articles here: Joe Palarchio.