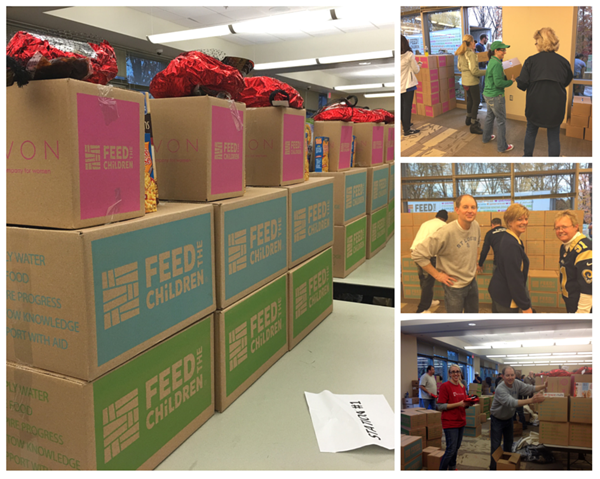 Rain streamed steadily from the sky for much of the day, but it certainly didn't dampen spirits at Feed the Children's Homefront Harvest St. Louis community outreach event. Volunteers helped serve food, essentials, children's books, coats, hams, hugs and holiday wishes to 800 military and civilian families in need.
"It was a wonderful experience and so rewarding to see all of the smiles on people's faces when they received their boxes of food, toiletries and coats. Just seeing how grateful the families were to receive these items was very touching," said Susan Allen, HR Consultant at Perficient.
Feed the Children hosted Homefront Harvest in partnership with the St. Louis Rams, St. Louis Dream Center and Fazoli's, and our team at Perficient was proud to support the volunteer effort along with United HealthCare and Delaware North at the O'Fallon Park Rec Complex on November 17.
Perficient is the St. Louis Rams' official technology solution provider and community partner. Homefront Harvest was one of many community outreach initiatives we've taken part in with the Rams organization.
Homefront Harvest also offered a community resource fair with about 20 participating organizations, where families were able to learn more about available resources in their communities.
Volunteers started the day unloading two semi-trucks full of boxes and then helped families carry the items to their cars. Our team felt extremely fortunate to have been part of such an extraordinary day of giving back.

---
Learn more about what it's like to work at Perficient here.
Follow our Life at Perficient blog on Twitter via @PerficientLife.
Connect with Perficient on LinkedIn.