Param Singh, the director of Perficient's clinical operations solutions team, was just presented with one of Perficient's highest internal awards for leadership. The Soaring Eagle award recognizes leaders who rise to their own personal heights while inspiring others to do the same through support, encouragement, and the creation of opportunities for professional and career development.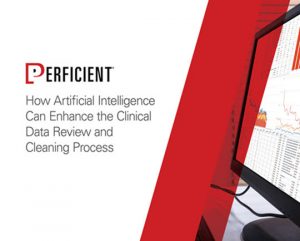 This guide analyzes how artificial intelligence – including machine learning – can be used by pharmaceutical and medical device companies to improve the clinical data review and cleansing process.
Param has been a leader in the clinical operations space – especially clinical trial management systems (CTMS) – for decades. His name is almost synonymous with Siebel Clinical, and it was he who first dreamed up Perficient's hugely successful Siebel Clinical accelerator, ASCEND.
While ASCEND has consistently been in the spotlight since its launch in 2009, the Soaring Eagle award is the first to recognize Param's work behind-the-scenes. If you ask me, that's where the truly impressive stuff happens. It isn't visible to everyone – that's part of what makes him such a phenomenal leader – but it makes a difference in the lives of his direct reports, colleagues, and clients each and every day.
Just take a look at what one of our clients had to say about him:
"I have had the pleasure of working with Param over the past 6+ years and have found him to be an amazing mentor! Everyone is excited when Param comes to town because he is so fun and charismatic, and he genuinely cares for all the people he works with. He strives to ensure that expertise in systems and processes resides within the Sponsor, not just his internal Perficient team. He is the leading expert in the Siebel CTMS community and he has truly moved the needle on trial management processes, outside of just the system and where operational information is kept. If I hadn't met Param in 2009, during our first Siebel CTMS rollout training, and had the ability to have a close relationship with him over the years, I am certain I would not be as successful in my own career as I am today!"

— Shannon B. Amore, Sr. Clinical Systems Specialist
To those of you who already know Param, I encourage you to take a moment to congratulate him on receiving this honor. To those of you who haven't met Param yet, maybe it's time to reach out and connect with a true leader.