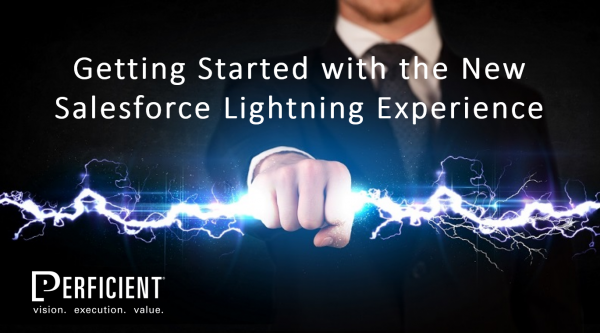 If you haven't had a chance to see it or try it, you should immediately sign up for a developer org and see what all the fuss is about. What exactly is Lightning Experience? Lightning Experience is a next generation Salesforce UI that delivers many new features to benefit sales teams of all sizes. Salesforce did more than develop just a new "skin". They redesigned how Salesforce works. It has been described as not just a new UI but a whole new operating system. It literally changes the way sales users work with information in Salesforce.
Salesforce has been working on this upgrade for a number of years now with its inception beginning with mobile. With the heavy adoption of smart phones and tablets users have become accustomed to the fast, responsive designs of a well-developed mobile application. Salesforce decided to take the lessons learned from Salesforce1 and apply them to the desktop to help users sell smarter and sell faster.
During Dreamforce 2015, I wrote about some of the features announced for the Lightning Experience such as Account Insights, which brings news and information about a user's accounts to their home page, updates to dashboards, and a whole new Opportunity page design. In this blog I'll show you how to enable Lightning Experience and what some of the current considerations are before making the switch.
Considerations Before Enabling
Like any new software product, Lightning Experience is in its infancy and will evolve over time. It's available to the general public as part of Winter '16. It will take some time before every feature or function in Salesforce is supported. As of right now, there are a number of things that are not yet available. For example, if your organization is using Person Accounts, at this time you will not be able to use Lightning Experience. Salesforce will be adding this ability to Lightning Experience very soon however. A few other features not yet available, but likely to come soon, include: Assets, Campaigns and Campaign Members, Contracts, Forecasts (critical for many sales organizations), and more. For a list of features not currently available in Lightning go to Salesforce's page, What's Not Available in Lightning Experience. Be sure to read through this before you take the plunge. 
Turning on Lightning Experience
Salesforce has purposefully made it simple to enable the Lightning Experience. They made sure that we could slowly turn it on in our organization and try it out. When you enable Lightning Experience it will only be available by permission. This allows administrators to setup permissions for a select group of users to pilot. This is always a recommended first step to implementing any new upgrade. Of course, this comes after testing in Sandboxes to make sure your current business processes continue to work as expected.
To enable Lightning Experience in your org, navigate to the Setup menu and click on Lightning Experience. You'll be brought to a page with information, resources, and a number of supporting features for your consideration such as Account Insights, Social Accounts, and Notes. Once you've selected which features to enable, move on to the permissions. 
The easiest thing to do is to create a Permission Set for Lightning Experience. Give the Permission Set a name that's easy to refer to such as Lightning Experience User and grant it the permission "Lightning Experience User". You'll be able to assign this permission set to one or more users allowing for a controlled roll-out.
Now that you have the features selected and the permissions set up, the only other thing to do is to turn it on! The final step looks something like this:
Once you've enabled Lightning Experience, your users can simply switch to the new design by logging into Salesforce, clicking on their name and choosing "Switch to Lightning Experience". That's it! You've enabled Lightning Experience. Users with the permission to use the Lightning Experience will have the ability to click back on their name and return to the classic Salesforce UI that they are used to.
Seeing Lightning Experience for the First Time
Now get ready to oooh and aaah….
The navigation bar on the left expands and collapses like the navigation bar in Classic Salesforce. On the right, users will have the Assistant to show them upcoming tasks, appointments and other activities. Assistant is also actionable. From this pane users can create appointments, make phone calls, and perform many of their usual tasks. Then in the center users will see their performance from their opportunities, recent records, top deals, and if you enabled it, Insights.
Opportunities Refresh
The Opportunities Home and Opportunities pages have been redesigned as well. The Home page provides an overview of opportunities as cards and allows sales users to easily drag and drop opportunities into stages. The Opportunities Home page will also alert sales users to opportunities that require their attention.
The Opportunity page also received a complete redesign. The new page is designed for users to take action. From the opportunity page sales users will see everything they need to work on an opportunity in one place, and have the ability to take action such as send an email, log calls, schedule appointments, and more. The Activity Timeline gives an overview of open tasks and appointments, and a history of completed activities.
Reports and Dashboards
Let me just say, Reports and Dashboards look amazing in Lightning Experience. First of all the Dashboard screen has been upgraded to allow for more Components than the three that we've been limited to for so long. The new dashboard is more than just aesthetically pleasing. The updated visuals help users visualize data and make it more actionable or make more informed decisions.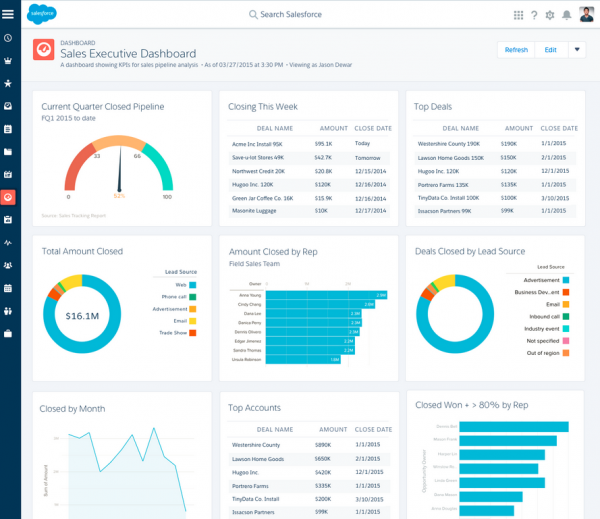 Final Thought
There's so much more to Lightning Experience than what was covered in this blog. It will take time to mature before Lightning Experience is ready for everyone, but in my opinion Salesforce really knocked it out of the park with this one. There are plenty of resources available if you're interested in finding out more. Trailhead is an incredible way to learn about new Salesforce features and experience them first-hand. You'll also find volumes of information available through Help, in a well-designed user experience, giving you all the information you'll need to decide if Lightning Experience is right for your business.
Interested in learning more about Lightning Experience? Connect with our Salesforce experts.