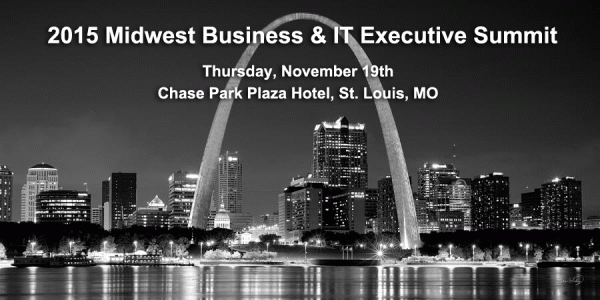 This year's 2015 Midwest Business & IT Executive Summit will be held on Thursday, November 19th at the Chase Park Plaza hotel in St. Louis, MO.  This annual conference features the latest Business & IT solutions including Analytics, Big Data, Cloud, Cybersecurity, ERP, HCM & Customer Experience. Regional business leaders and government organizations will be showcasing content on trending business and IT topics, solutions, case studies, success stories and panel discussions.

Engage with Perficient
Hear from our experts at 9:15 am in the Plaza conference room to hear about Customer Experience solutions: How Well Do You Know Your Customers? Leveraging Oracle CX Solutions Improve Your CXIQ.  Perficient's Oracle CX Solutions Manager, Tom Munley, will cover the basics of the Customer Experience Maturity Model, why it is important to understand where your business stands and have a plan for improving your CXIQ. Hear about case studies of real clients and how they implemented CX solutions to improve their ability to gather Customer Insights and improve overall Customer satisfaction.
Make sure to connect with one of our experts during the expo hour in the Zodiac room from 11:00 a.m. to 12:00 pm.
REGISTER HERE
Thursday November 19th, 2015. 8:00 am – 5:00 pm
Chase Park Plaza Hotel
212 N. Kingshighway Blvd
St. Louis, MO 63108
Learn More
Download one of our latest guides: The New CX Paradigm: Using Oracle Cloud to Compete When the Customer is King. This guide, you'll get insights and information you can use to:
Build a customer experience plan to strengthen your brand with every customer interaction
Identify the services you'll need to execute your plan
Make the case to investors, executives, and other decision-makers to gain support for new digital experience initiatives.