Every time I hear about precision medicine showing signs of effective disease treatment, I want to share it with you. Here's one to add to the collection.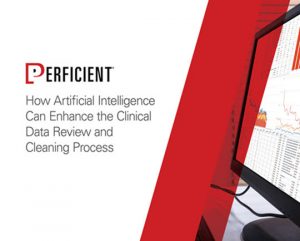 This guide analyzes how artificial intelligence – including machine learning – can be used by pharmaceutical and medical device companies to improve the clinical data review and cleansing process.
AztraZeneca's drug Lynparza (olaparib), which is used to treat women with advanced ovarian cancer, has shown positive results in patients with prostate cancer who have a specific genetic mutation.
Megan Thielking, a writer for STAT, spoke to Dr. Joaquin Mateo about the study's findings:
How did precision medicine shape the trial?

We gave men with prostate cancer olaparib, and then we observed whether they responded to the drug. At the same time, we biopsied pieces of their tumors and sequenced the DNA to find what was in common with all the patients who responded to olaparib. Almost all of them had mutations in the same gene.

What's the next step?

We're now sequencing the DNA up front of every single patient with advanced prostate cancer referred to us. The idea is to get a bigger number of patients treated to get more robust information … Then, we can know how to select the right drugs for the right patients, because that's the way we can deliver more personalized medicine.
Interested in seeing other examples of precision medicine in life sciences and healthcare? Download our guide.