Join us at the 2015 IMUG …
The Indianapolis Maximo User Group provides a forum for Maximo users/experts to collaborate on their experiences and uses of IBM Maximo through workshops, member presentations, and networking.
Join us for IMUG 2015 where you will hear presentations and updates from IBM and Maximo users regarding Maximo 7.6, the future roadmap, recommendations on upgrading Maximo, Predictive Maintenance and Quality (PMQ), and Maximo reporting/analytics.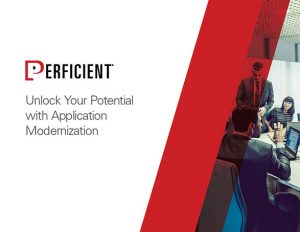 Application modernization is a growing area of focus for enterprises. If you're considering this path to cloud adoption, this guide explores considerations for the best approach – cloud native or legacy migration – and more.
This is a great opportunity to network and share with Maximo peers!
Hosted by CBRE, sponsored by Perficient, and located at Eli Lilly:
Tuesday, November 17, 2015 from 8:30 AM to 5:00 PM (EST)
Refreshments and lunch will be provided.
Eli Lilly
Building 301-MP A&B
1200 W. Morris St.
Indianapolis, IN 46221