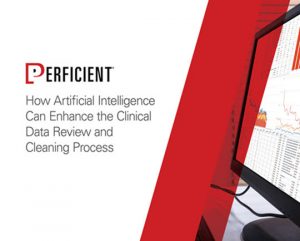 This guide analyzes how artificial intelligence – including machine learning – can be used by pharmaceutical and medical device companies to improve the clinical data review and cleansing process.
Last week, I attended a webinar that showcased the results of a study on the adoption of clinical trial software in life sciences. The study was conducted by a working group led by the Tufts Center for the Study of Drug Development, CDISC, and Oracle Health Sciences, and the results reiterated what we already know: most companies are using eClinical solutions to run their trials. 
Over 500 biopharmaceutical, contract research, and academic research organizations, in addition to software vendors, were surveyed. By analyzing completed vs. active studies, the researchers learned that clinical trial software was used far less in completed studies, indicating that the use of such software has increased in recent years. Surveyed organizations that currently don't employ eClinical solutions cited cost, complexity of adopting new systems, and lack of time to evaluate applications as the primary deterrents.
To watch a replay of the webinar, click here.