As many of you know, Perficient has a practice devoted to Salesforce.com solutions. So, it shouldn't be a surprise that a bunch of my colleagues are at this year's Dreamforce event and furiously blogging about what they're hearing.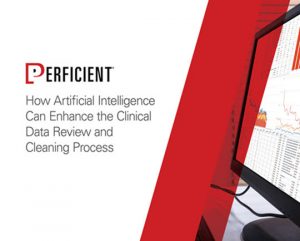 This guide analyzes how artificial intelligence – including machine learning – can be used by pharmaceutical and medical device companies to improve the clinical data review and cleansing process.
One of the posts that caught my attention was from Mike Porter, who sat in Dr. Atul Butte's keynote session. Dr. Butte, as I mentioned in a post earlier this year, is the Director of the Institute of Computational Health Sciences (ICHS) at the University of California, San Francisco (UCSF), not to mention an MD, professor of pediatrics, and the founder of several health-related companies. 
Dr. Butte discussed the world of big data, as it sits today, compared to what it was just several years ago. We have a massive amount of data at our fingertips that is shared and available to anyone to mine for new discoveries. With the cost of drug development in the billions, we're not sure how long it will be sustainable. However, with the amount of data we already have, we know it's possible to uncover new uses for existing drugs and to develop better, targeted therapies.
To read more about Dr. Butte's presentation, click here. You can also watch his presentation here.