Everyone knows George Zimmer of Menswear fame and his "I guarantee it" commercials. After leaving Menswear, he's back with a new startup and ready to revolutionize retail. It's the first ever B2C platform powered on Salesforce from end-to-end.
It started with a video for Generation Tux. The total Tuxedo market is 10 million rentals a year…but everyone knows you have a rental. George wants to combine a Tux rental with Salesforce technology to get it done without leaving your home.
This is all new and all architecture decisions were made with an eye to customers and to scale.
Quote: "It's a dream come true to take a guy my age and write my second act with Salesforce technology."
"We believe online tuxedo rental is the future of the market." His new site is generationtux.com. "We care about our customers, our employees, and our shareholders. (just saying……not a dig on his previous company). This is a combination of high-tech and high-touch.  Think of it as scalable personalization."
The Problem
Tux  rentals require three trips to the store and looking like it's a mis-fitted rental.
The Solution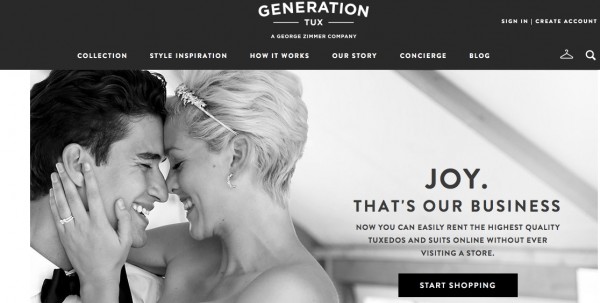 One web site will cut down on the trips. It will give you the quality you want.
"I guarantee it"
The Lineup
All the tuxes, shirts, and other items are the finest quality you can rent. They are breathable, expand easily, and look good. All tuxes and suits rent for $95, shipping included.   They also offer shoes, vest, tie, etc.  That only costs $150.
The entire inventory is tracked with RFID chips so no labels scream rental.
The fit: You can measure yourself or they will send a ZTailor  to do it for you.
ZTailors are available for weddings.
They send the tuxes in a patent pending box to ensure no wrinkles.  This was a box that took 7 months to design. They wanted to get it right.
The Solution
Two guys helped translate this to a reality. Matt Allen (High-tech) and Matt Scow (High-touch).
The customer: a 28 year old woman. (yes, a woman) and that's a scary experience.
The site: a nice easy look with an easy to surf styles.  To do this, they created the "best" mix and match experience. It's photo realism and not virtual.  They shot every single item in high-def photography with a transparency layer.  They added realistic elements to bring it home.   The visualizer is a content engine.  It's also hooked up to social so the user (e.g. the bride) can share excitement about her big day.
The allocator is built on Force.com with custom logic built around accounts and other object.  You can then create all the info around every person in the wedding.  They then have a dashboard which shows what every person will wear.  In order to actually get the Groomsman measured, they use Marketing Cloud and put 63 steps into the communication to pay.
The content includes a series of videos. Generation Tux will even send you your own tape. In other words, they are trying to make this as simple as possible.
If you run into a problem, you can call, chat, or even co-browse with customer service reps. It's white-glove customer service. When things go wrong, reps are enabled to take care of an issue overnight.
The site is mobile ready (of course). From the web or mobile, the bride can see event status and who she needs to remind to get measured.
The warehouse is 250,000 square feet with onsite dry-cleaning It's the first warehouse in the cloud. Every single garment is managed on an individual basis.  Ascent ERP has all of that and it's in the cloud. Each garment has its own profit and loss statement.  But it's now a piece of cake to do inventory with RFID and Ascent.  They also scan every single box before it goes out to ensure every garment is in the box. It's the ultimate quality control.
The Tech
This is 100% end to end on the cloud. It's all on Salesforce:
Service Cloud
Force.com
Marketing Cloud
Heroku to host ecommerce
App Exchange for Financial Force and Glance
It's truly high-tech.