Ed Miseta, Chief Editor of Clinical Leader, recently interviewed Mike McKay, Associate Director of Operational Excellence for Shire Pharmaceuticals, on his view of the clinical IT space and how it's affecting his company.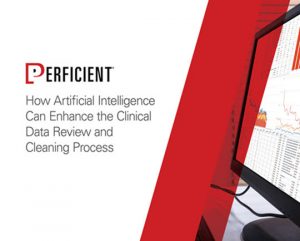 This guide analyzes how artificial intelligence – including machine learning – can be used by pharmaceutical and medical device companies to improve the clinical data review and cleansing process.
Here are several takeaways from his interview: 
While risk-based monitoring (RBM) is in its infancy, the benefits it offers make it critical for companies to adopt through the implementation of intelligent systems.
Patient centricity is extremely important when it comes to the clinical trial design process. Putting yourself in the patient's shoes will help increase enrollment, compliance, and overall adherence to treatment regimens.
Data integration, or "connecting the dots," remains to be one of the biggest objectives at the company. Having the information you need at your fingertips will help provide real-time insight and enable changes to be made quickly.
Outsourcing IT and data work to third-party service providers and CRO partners is a staple of Shire's business.
McKay's outlook on the industry's trends is wise, but not unique. We continue to see similar initiatives and goals among our life sciences client base.
We see companies leveraging existing systems, often their clinical trial management systems (CTMS), to support RBM strategies. In clinical trial operations, we see clients mapping the subject's journey, starting with the very first touchpoint, to increase patient engagement and adherence, thereby improving the study's outcome. We see clients investing in key integrations, especially between clinical and safety systems, to streamline operations and provide decision makers with accurate, real-time data. And we see organizations outsourcing more of their standard business operations to experts in technology so that they can focus their internal efforts on developing drugs and running trials.
To read the interview with Mike McKay in its entirety, click here. If you're interested in exploring how to implement Shire's initiatives at your organization, contact us today.