Office ProPlus has done a great job of getting many organizations in a position where they're running a fully patched and current version of Microsoft Office. It's a component of Office 365 that really brings great value to organizations that previously didn't have a solid deployment or patching process for Office.
Quick Aside: If you're still running Office 2010, mainstream support is up in October…
While the current version of ProPlus is essentially Office 2013, there will come a time when Office ProPlus upgrades to Office 2016.
In the article below I'll outline some of the reasons you'll want to take some caution with this upgrade.

This week, Microsoft posted the following announcement in the Office 365 Message Center: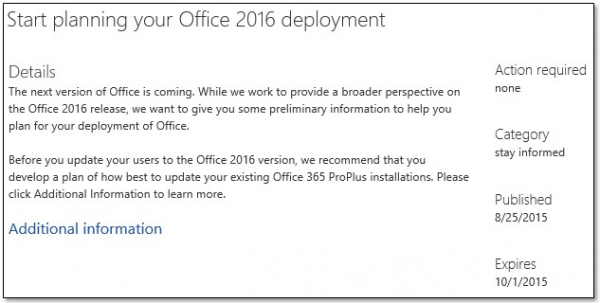 Included in the announcement is this article outlining some of what is to come in the pending upgrade: Prepare to update Office 365 ProPlus to the Office 2016 version
The Good: Update Branches
It appears there will be "update branches" for Office 2016 allowing additional control of the patching process as well as an option to continue with Office 2013 for a period of time.
The Good: Familiar User Interface
The user interface in Office 2016 isn't drastically different than Office 2013. Certainly there are new features to be found including the often requested "dark theme" but for the most part the look and feel is the same. It's not like when Office 2007 added the "ribbon" which was completely foreign to those living in Office 2003.
Watch For: Incompatibilities with Project / Visio
Running MSI installations of Office products such as Project and Visio is not compatible with the "click-to-run" Office ProPlus (see "Office 365 – Office ProPlus C2R Not Compatible With MSI Installs").
In the recent Microsoft article, it contains the following note:
"…if there is a 2013 version of Visio Pro for Office 365 or Project Pro for Office 365 installed on the computer when you update Office 365 ProPlus to the Office 2016 version, those versions of Visio and Project are removed from the computer. You won't be able to reinstall them after the Office 365 ProPlus installation finishes. However, you can install the 2016 versions of Visio Pro for Office 365 and Project Pro for Office 365 on the same computer with the Office 2016 version of Office 365 ProPlus."

As you can imagine, losing their Project or Visio installation could create some unhappy users if you don't prepare for this change.
Update: As pointed out in the comments below, this incompatibility between MSI and C2R installations appears to be limited to products of the same version (2013 / 2016). It appears that running the MSI installation of Visio 2013 and Project 2013 may be supported with Office 2016 C2R. The above quote about removal of Visio and Project is referencing the 2013 C2R versions of those products, not the MSI-installed versions.
Watch For: Add-In Incompatibilities
I trust that the upgrade from Office 2013 to Office 2016 will work just fine. An area that I have concern with is with Office Add-Ins or applications that are poorly written. Unfortunately, some applications don't plan well for the future. So for applications that have been written to look in the registry or file structure for "15" (Office 2013), they may not know what to do with "16" (Office 2016).
Even Microsoft is guilty of this with their "Mail Protection Reports for Office 365" spreadsheet. Trying to install the add-in on Office 2016 results in the following failure as it can't find Excel 2013.

Watch For: Current Update Process
If you've installed Office ProPlus using the default option of updating direct from the Internet, there will be a couple things to consider. Downloading the updates to every workstation individually could be a pretty good hit to your network at 850 MB / user. Additionally, it appears that users downloading updates from the Internet will be prompted themselves to decide if they want to upgrade to 2016.
Summary
Despite the above, we shouldn't fear the change to Office 2016; Microsoft has continuously added features within the Office 365 service that add more and more flexibility or customization. Most important will be for organizations to prepare and test add-ins before making the leap to 2016.

Did you find this article helpful?
Leave a comment below or follow me on Twitter (@JoePalarchio) for additional posts and information on Office 365.
Looking to do some more reading on Office 365?
Catch up on my past articles here: Joe Palarchio.