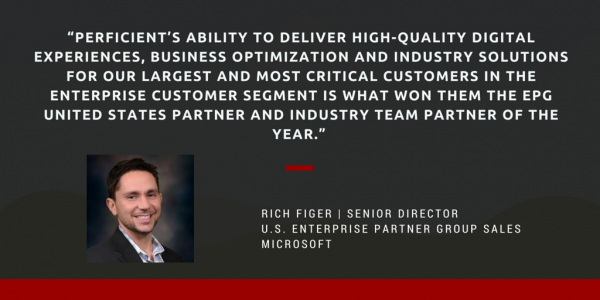 I am absolutely thrilled to share that Perficient has been named Microsoft EPG United States Partner and Industry Team Partner of the Year for 2015. This is a huge honor, and we are incredibly thankful to Microsoft, our customers and our partners for sharing in this recognition and working so closely with us this past year.
The newly created award recognizes Perficient for sweeping Microsoft's regional Enterprise Platform Group (EPG) honors. In addition to the national award, Perficient was named Microsoft's East Region National Solution Provider (NSP) Partner of the Year, Central Region NSP Partner of the Year and West Region NSP Partner of the Year.
From the press release:
"Perficient's ability to deliver high-quality digital experiences, business optimization and industry solutions for our largest and most critical customers in the enterprise customer segment is what won them National Solution Provider Partner of the Year across East, Central and West regions in U.S. EPG," said Rich Figer, Senior Director, U.S. Enterprise Partner Group Sales at Microsoft. "We are also honored to name Perficient the overall U.S. EPG Partner and Industry Team Partner of the Year in 2015 based on unanimous confidence across our partner sales executive teams in all three regions across the United States. They consistently deliver cloud-optimized solutions across our platforms and productivity services with complete customer and Microsoft sales executive satisfaction."
Perficient has activated over 2.5 million Office 365 seats and has 26 Azure certified consultants, more than any other NSP.
"Microsoft's enterprise offerings have grown increasingly cloud-based as companies move to adopt this innovative, efficient and secure technology," said Mike Gersten, Vice President of Perficient's Microsoft national business group. "Cloud computing lowers operating costs and provides agility and scalability options unavailable on limited legacy infrastructure. We are honored to receive these partner awards, which reflect the strength of Perficient's Microsoft cloud consultation and delivery expertise at work across the country."
While at Microsoft's Worldwide Partner Conference (WPC), it's also been exciting to see the video highlighting how Perficient and Microsoft have worked together to empower our customers, and in this case, Partners In Health, to achieve more through technology. Dave Mayo, CIO at Partners In Health, spoke of the value of our partnership:
"Perficient's proven track record in the health care industry, its Microsoft cloud services expertise, and its recognition as a top U.S. Microsoft partner all stood out prominently when we were looking at technology solutions providers," said Dave Mayo, CIO of Partners In Health. "Thanks to our partnership with Perficient, we have adopted a consolidated, reliable platform for colleague interactions that enables us to more effectively serve the world's most vulnerable. Perficient's generosity and support of our efforts has earned our profound gratitude."
Thanks to our entire team that helped to make this happen. What I love most about working here at Perficient is the people. Our team is second to none, and every single day, I'm amazed by the talent and passion they possess. Sweeping the nation with all three regional awards for Microsoft EPG PTU Partner of the Year is proof of their commitment to helping our customers scale operations and remain agile with Microsoft solutions. Well done, team! I can't wait to see what we can accomplish together in the coming year.
You can read the full news release here.