Most of us "regular people" refer to pharmaceutical products by their trade name, but that's not the case among life sciences professionals in research and development departments. In fact, during a product's lifecycle, chances are it has been referred to by at least four names: a chemical compound, a company code, a generic name, and, finally, a brand name. There are likely additional names and terms used since so many different groups of people interact with each product along the way. 
With so many names for a single product, the task of trying to find a particular document that relates to the product in question can be incredibly frustrating, especially if your company's enterprise search function isn't that great.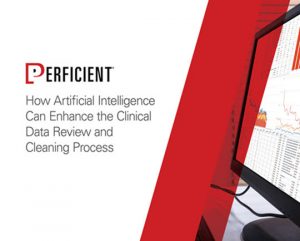 This guide analyzes how artificial intelligence – including machine learning – can be used by pharmaceutical and medical device companies to improve the clinical data review and cleansing process.
How does a document search typically work at your company today? Pretend you're searching your company's database for information on Tylenol. Chances are your search will result in documents that only contain the brand name. After all, that was the search term you used.
But what about all those other documents that were related to Tylenol, but didn't mention the brand name? You know, the documents that mentioned Acetaminophen or N-acetyl-p-aminophenol? Are those documents not valuable to you? Should those have been excluded from the results? Without searching for all the product names you're aware of, you're likely getting only one piece of the picture.
With Google Search Appliance's (GSA) "synonyms" functionality, searching a single product name can retrieve documents with all names related to the one you searched. To put it into perspective, if you search Tylenol, you will see documents that contain Tylenol, Acetaminophen, N-acetyl-p-aminophenol, and any other name that could be synonymous with it.
GSA's synonyms feature allows you to create your own dictionary of synonyms to ensure a complete and accurate search experience. If you're interested in enabling your constituents to find all of information they're looking for, contact us today. We'd love to show you the power of GSA for life sciences companies.
You can also join Google's Head of Search, Rob Cocks, and Perficient's Google Practice Director, Chad Johnson, for an upcoming complimentary webinar in which they will discuss why and how life sciences companies can leverage the GSA to save time, money, and eliminate frustration.