Pankaj Bose spoke at the IBM Digital Experience 2015 conference about how IBM Cognos, Digital Experience and SPSS can be integrated together for a great Business Intelligence Experience.
Typical business challenges include:
How to build, run and manage a mobile, cloud and social solution
Complexity of great experiences
Lack of centralized storage and poor, incompatible data formats
Lack of forecasting impacts decision making and key investment strategies
Managing unstructured social content
Inability to provide personalized customer interactions
For the solution Pankaj talked about, IBM Digital Experience is the center of the approach providing the experience, social, mobile and multi-lingual capabilities, with IBM SPSS as the predictive analytics, BI is provided by Cognos, Data handling is from IBM DataStage and the operations are provided by IBM Pure and DB2 system. These products can share a common security framework and common data management services.
There are four integration patterns for the BI Experience:
Portal Services:  Cognos and SPSS both provide portlets that can be installed on IBM Digital Experience.  These portlets provide a set of features define by each of those products.Cognos uses its Servlet Gateway. SPSS uses Collaboration and Deployment Services to deliver content tot he portal.  This is a preferred way to implement the BI Portal because it is all out of the box.
Web Services:  Here you call services provide by Cognos and SPSS from custom-built portlets running on Digital Experience.  In this case, you can completely customize the solution rather than rely on the features provided by the out of the box portlets.  For example, if Cognos doesn't deliver the exact type of chart you want to display, you can call a Cognos service to get the data you want and then create your own chart in the portlet.  This approach is trickier because you need to work with SOAP, take care of security through the service interface, etc.
WSRP: This is Web Services for Remote Portlets, which allows one portal to display content running on a different portal. This approach can potentially help with performance where the Cognos server runs the Cognos portlets and then your BI experience displays that content via WSRP.  There are limits with this approach, but it can be helpful in certain situations.
Web Application Bridge: Digital Experience includes the WAB portlet to display a website within the portal via an iFrame.  Both Cognos and SPSS have web interfaces so you can reuse this already built interface without making changes.  WAB supports reverse proxy and optimizes the rendering of the content on your BI experience.  When you have SSO implemented, this approach works really well.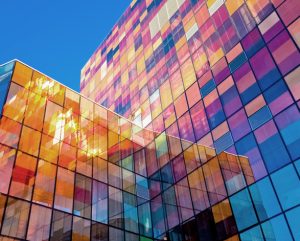 With some guidance, you can craft a data platform that is right for your organization's needs and gets the most return from your data capital.
All of these approaches can be used for Responsive Web Design techniques so you can easily create a mobile BI experience right off your portal.  IBM MobileFirst also can provide native apps for this environment.
In addition to provide nice charts and graphs, this same BI experience can be use to deliver reports via Digital Experience.
Here are a few potential uses cases:
360 degree view of customers – this applies to many industries – for customer service organizations.  The BI experience can provide overview of a customer's spend including details. Using predictive analytics, management can predict churn
Smarter Planet concepts to enable governments to efficiently gather information from various stakeholders and deliver concise information to constituents.  Governments can also use constituent data to predict what citizens are needing in terms of services.
Track how business partners, dealers, etc are doing.  Partner relationships often depend on a lot of data – opportunities, sales, discounts, fulfillment, etc.  The BI experience could provide a dashboard to help manage all this information.
Follow the link here to see how Perficient helps clients with BI, Big Data and Analytics.