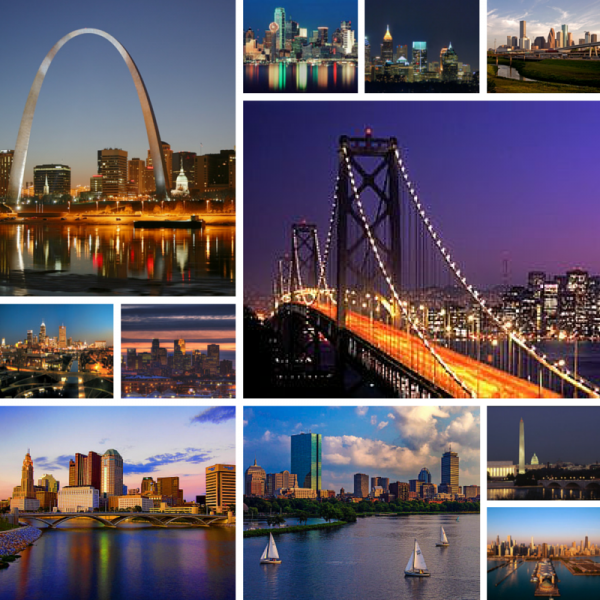 If you're looking to locate in a major metropolitan area to grow your career, Glassdoor recently published a roundup of the 25 best cities to do just that. If you're looking for a job in the technology industry as well, Perficient has offices that reside in 11 of the locations on Glassdoor's list.
The cities spotlighted in the online career site's report earned the highest Glassdoor Job Score, determined by hiring opportunity, cost of living and job satisfaction. The report also factored in median base salary and population.
Of the 25 cities, Perficient operates in San Francisco, St. Louis, Columbus, Dallas-Fort Worth, Boston, Minneapolis, Atlanta, Indianapolis, Chicago, Houston and Washington, D.C. Three of those locations – Chicago, Minneapolis and St. Louis – have received top workplace awards as a result of high employee satisfaction and exceptional work environments.
The Chicago Tribune named Perficient a Top Workplace in 2014. The Minneapolis Star Tribune named Perficient one of the Top 100 workplaces in its 2013 survey. Perficient was also named a Top Workplace by the St. Louis Post-Dispatch in 2013 and a Top Workplace by The Denver Post in 2014.
"Our success and recognition as a great place to work results from our unwavering focus on core values including honesty and integrity, pride in our work and client value," said Jeffrey Davis, Perficient CEO and president. "We hire the best and brightest, foster a culture of ownership and collaboration, and encourage an entrepreneurial spirit."
All of Perficient's offices offer unparalleled opportunities to grow as a professional and enjoy work-life balance. Click here to browse our current openings company wide.
Job hunting in St. Louis? A recent St. Louis Business Journal story on IT job opportunities spotlighted one of our current openings in the Gateway City for a system administrator.
Learn more about what it's like to work at Perficient:

---
OFFICE VISITS
Get an inside look at some of Perficient's locations:
Office Visit: Go Inside Perficient's Dallas Location
Office Visit: Perficient's Denver Employees Enjoy Stunning Setting
Office Visit: Perficient's Minneapolis Location Fosters Team Building

---
Follow our Life at Perficient blog on Twitter via @PerficientLife.
Connect with Perficient on LinkedIn here.