Imagine mailing over 60,000 letters to have only netted 305 breast cancer survivors for a clinical study. And that took three years. Now imagine enrolling thousands of subjects for a study, albeit with less strict criteria, in less than one month. That's thanks to an app. 
It's clear we've entered a new era in medical research when you look closely at Apple's ResearchKit, an open source software framework that enables researchers and developers to easily create apps to conduct studies via an iPhone. The ability to reach large populations, enroll a significant number of subjects quickly, and capture data on a constant basis, makes ResearchKit a game-changer. According to the Wall Street Journal, approximately 60,000 people have enrolled in the five apps below leveraging ResearchKit technology today.
Just imagine if Google and Apple worked together on this. Just imagine because it's not going to happen. At least, I doubt it.
Asthma Health
Mount Sinai, Weill Cornell Medical College, and LifeMap developed their Asthma Health app to gain greater insight into triggers for the disease. It helps participants self-manage their asthma by avoiding areas where air quality could worsen symptoms. And, since the study tracks symptom patterns in individuals, researchers hope to discover new ways to personalize treatment.
GlucoSuccess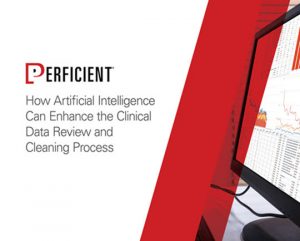 This guide analyzes how artificial intelligence – including machine learning – can be used by pharmaceutical and medical device companies to improve the clinical data review and cleansing process.
Massachusetts General Hospital developed its GlucoSuccess app to help researchers understand how various aspects of a person's life — diet, physical activity, and medications — affect blood glucose levels. The app can also help participants identify how their food choices and activity relate to their glucose levels, enabling them to clearly see correlations and take more active roles in their own well‑being.
mPower
The variability in Parkinson's disease symptoms has left many questions unanswered. So the University of Rochester and Sage Bionetworks created the mPower app to precisely measure data such as dexterity, balance, memory, and gait. This information could help researchers better understand how various symptoms are connected to Parkinson's disease. In turn, participants could start to recognize their own signs and symptoms.
Share the Journey
The Dana-Farber Cancer Institute, the UCLA Fielding School of Public Health, Penn Medicine, and Sage Bionetworks developed their Share the Journey app to learn more about the long-term effects of the chemotherapy used in treating breast cancer. The app enables participants to easily provide detailed information about energy levels, cognitive abilities, and mood. The study could illuminate ways to offer patients a better post-treatment quality of life.
MyHeart Counts
Stanford Medicine and the University of Oxford have collaborated to create the MyHeart Counts app. It uses surveys and tasks to help researchers more accurately evaluate how participants' activity and lifestyle relate to their risks of cardiovascular disease. By identifying these correlations, researchers can begin to better understand how to keep hearts healthier.
*Descriptions of the apps were taken directly taken from Apple's website.
Follow me on Twitter @EugeneSefanov