Dr. Janet Woodcock, the director of the Center for Drug Evaluation and Research (CDER) at the FDA, recently posted a blog piece that discussed the department's strides in precision and personalized medicine. She points out that since 2012, CDER has approved 30 targeted therapies, eight of which were in 2014.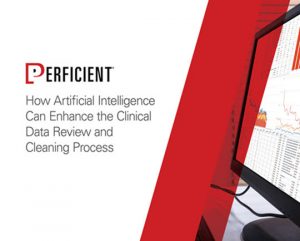 This guide analyzes how artificial intelligence – including machine learning – can be used by pharmaceutical and medical device companies to improve the clinical data review and cleansing process.
Dr. Woodcock focused on the importance of biomarkers in personalized medicine. Biomarkers are used to determine which patients would benefit most from which therapies, as well as the right dosing for each patient; what she calls "personalized drug dosing." In this practice, biomarkers are leveraged to identify patients that are likely to eliminate a drug from their system either too slowly or too quickly. Patients that aren't able to process a drug fast enough could potentially experience an overdose, whereas patients that process a drug too quickly may not receive enough of a benefit.
"Personalized drug safety," the practice of determining which patients are more likely to experience a serious adverse event, is another area the FDA is focusing on. In this practice, patients who experienced a rare, but serious, side effect are evaluated in an attempt to identify biomarkers that correlate to the reaction. Once the biomarkers are known, they are leveraged to determine whether future patients are likely to experience the same reaction or whether the drug is likely to be safe for them.
Based on the FDA's recent track record, it appears the life sciences and healthcare communities agree on the notion that a personalized approach to medicine is the right way to go.