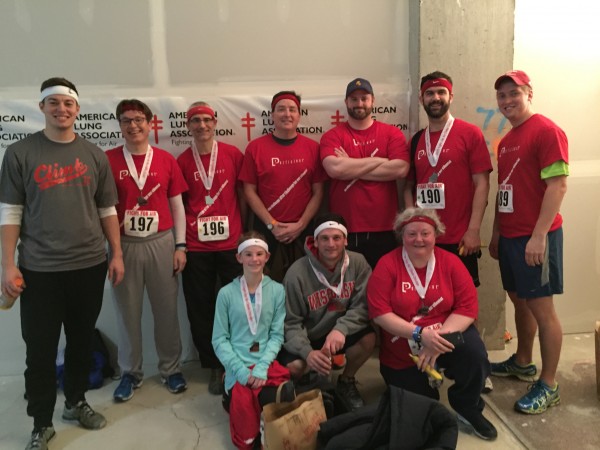 Co-workers in Perficient's Chicago office recently put their lungs to the test in a big way.
Nearly a dozen joined together to tackle the American Lung Association's 2015 Fight for Air Climb in the nearby Presidential Towers.
For the fundraiser, individuals and teams climbed 45 floors, 585 steps, of 1, 2, 3 or all 4 Presidential Towers for a total of 2,340 steps.
"There was lots of excitement," says Amy Smith, a Microsoft Senior Project Manager at Perficient. "Everyone was very positive and encouraging."
General Manager Matt McGillen said it was his first-ever stair climb, so he wasn't sure what to expect. "I wasn't sure if I was going to fall over after five flights or if I was going to be flying up all four towers with ease. Safe to say it was somewhere in the middle."
Perficient's team raised $3,240, with the top fundraiser, Ian Linsell, bringing in $670.
90 cents of every dollar raised by the American Lung Association supports its mission of saving lives by improving lung health and preventing lung disease through education, advocacy and research.
"I was pretty inspired by some of the people who were doing the event in memory of family members," Matt said. "I read through some of the fundraising pages on the event's website and the stories people shared were really emotional, partly heartbreaking but definitely inspiring.
"All in all this was a great way to raise money for a worthy cause and have a ton of fun with my co-workers along the way."
Perficient's team members included:
Eleah Gersten – 4 towers
Mike Gersten – 4 towers
Todd Golden – 4 towers
Janne Pelkonen – 4 towers
Ian Linsell – 4 towers
Michael Buckman – 4 towers
Andrew Zelinski – 4 towers
Tim Tressel – captain – 3 towers
Matt McGillen – 4 towers
Amy Smith – 2 towers
David Palfery (did fundraising but could not attend the climb)
The Perficient team even made brief appearances on the local ABC 7 Chicago news station. Matt McGillen is pictured above, and Todd Golden and Eleah Gersten appear climbing the stairs in the teaser on the television screen below.

Way to go, team!
Learn more about the American Lung Association's Fight for Air Climb here.
---
Learn more about what it's like to work at Perficient here.
Follow our Life at Perficient blog on Twitter via @PerficientLife.
Connect with Perficient on LinkedIn here.