This announcement should be music to the ears, for all the Mac and iOS diehards using Microsoft apps. Earlier I had blogged about an interim solution for these devices, you can read it in my post here. Last week, Microsoft announced new ways that you can access and manage your OneDrive for Business (ODFB) files from your Mac and iOS devices. The good news is that ODFB works like OneDrive (Personal): You get a virtual drive in the Finder so that you and your apps can access ODFB files normally. That means that Office for Mac can now access files in your corporate ODFB account (which should have always worked). New capabilities in how you view, manage, and share your photos and it now allows you to connect to one or more ODFB accounts.
Previously Microsoft had shipped two separate apps – one for your personal files and one for business files – now you can do this all within the one app. For a business user you can access all your files plus all the files that have been shared with you. You can even access your most recent files plus recover accidentally deleted files from the Recycle Bin. You can download the iOS app from the app store, and the Mac sync client preview from the Microsoft Download Center. You can also take a first look at the new Mac sync client on Office Mechanics. I share below some screenshots from my iPhone, that goes to show how easy it is to add ODFB to your existing app.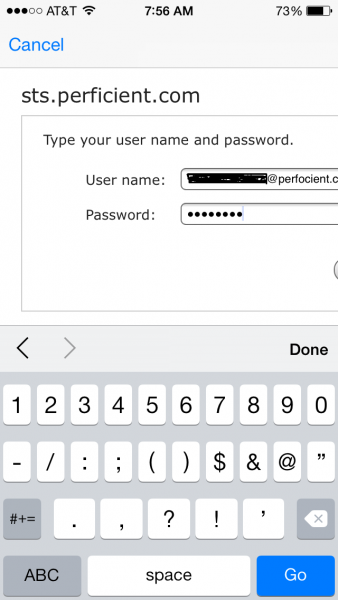 Now for some reality check:
What You Can Do
You can create folders, move documents, delete documents, rename documents, view documents, and open documents in their corresponding Office apps — exactly as you could before.
You can sign into multiple OneDrive accounts, including OneDrive for Business ones, then switch from one account to another.
You do get notifications and reports if it doesn't work by clicking on Full Details in the top bar. Combination of Outlook for iOS and Outlook and OneNote for Mac, I would say users should be pretty happy here.
What You Cannot Do
Cannot still sync SP libraries in Mac client (like windows).
The SharePoint Limitations of path and special character is still there (it is on the road map to remove them)
The current Preview of this app only works for Personal My Site Library and not regular Team Site Libraries.
Move files from account to another
Backup your iOS or Mac photos to OD4B. You still need to use OneDrive personal for that (which makes all the sense to me but I know some people who are going to frown on this one)
Sharing

It's been a long wait for iOS and Mac users and this should be a welcome relief.