If you're connected to the life sciences industry in one way or another, odds are you've heard the term "21 CFR Part 11." You may
have gathered that it's a set of regulations related to computer systems, but, unless you work in some sort of compliance group, you might not understand what it's about or why it's important. If you fall into this category, then this series of posts is for you. I'm about to give you your very own 21 CFR Part 11 decoder ring!
First things first – let's decode "21 CFR Part 11" itself:
21 = Short for "Title 21," which is the section of the CFR that applies to Food and Drugs. The CFR contains 50 "titles."
CFR = Short for "Code of Federal Regulations," which is a coded (numbers and letters) set of laws published by the federal government of the United States.
Part 11 = Scope is specific to electronic records & electronic signatures, which includes electronic submissions to the FDA.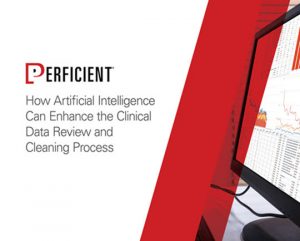 This guide analyzes how artificial intelligence – including machine learning – can be used by pharmaceutical and medical device companies to improve the clinical data review and cleansing process.
The CFR is organized like so: Title > Chapter > Subchapter > Part. Given that, the "21 CFR Part 11" name leaves out a couple of details:
Chapter I = Part 11 falls under "Chapter I," which applies to the Food and Drug Administration (FDA) and is largely based on the Food, Drug, and Cosmetic Act from 1938. Chapters II and III of Title 21 are related to other agencies focused on illegal drugs.
Subchapter A = Part 11 falls under "Subchapter A – General" of Chapter I.
Within each "Part" of a "Subchapter," the content is further organized in lettered "Subparts" and, within the Subparts, "Sections" that have numerical codes and additional layers of letters and numbers for granularity.
There you go! Now, you can impress all of your friends at the next happy hour. 😉  Since your friends will undoubtedly be hooked and eager to hear more, here is a look ahead at what we'll be decoding in the rest of the posts in this series:
If you're interested in learning more about the contents and organization of the CFR, Wikipedia does an excellent job of breaking it down (and was my reference for the explanation above). For more on the CFR, click here. For more on Title 21 of the CFR, click here.
If you can't wait for the rest of the posts in this series to get your compliance questions answered, feel free to contact us in the meantime.