Oracle recently announced a new version of Oracle Clinical, Remote Data Capture (RDC), and Thesaurus Management System (TMS).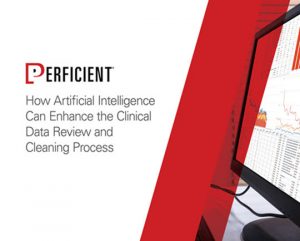 This guide analyzes how artificial intelligence – including machine learning – can be used by pharmaceutical and medical device companies to improve the clinical data review and cleansing process.
Some of the enhancements in version 5.1 include:
Support for Partial Source Data Verification (SDV): Oracle Clinical and RDC Onsite now support creating a risk-based SDV plan that identifies only a subset of data requiring verification in RDC.
Custom Review Types: To facilitate centralized monitoring in RDC Onsite, you can create custom review types (similar to the predefined Verify and Approve review types) to enable and track reviews by users with a specific role such as data manager, safety expert, or adjudicator. After you define review types and assign privileges to users, default activity links appear in RDC Onsite specific to each review type, allowing privileged users to search for CRFs requiring their review.
Additional CRF Audit History Information in RDC Onsite: The RDC Onsite data entry window now provides a CRF History Report which provides CRF audit history not otherwise available in the data entry window, including initial CRF creation data, prior history for deleted rows, and prior history if the CRF was ever deleted.
Audit of Study Data Deletion: The study data deletion batch job can now be run with or without auditing the deletions. Data deleted with audit is still considered hard-deleted and is no longer available in the system, but it is written to new tables with the same structure as the tables it is deleted from, and you can generate reports on deleted data and discrepancies in SQL*Plus.
Enhanced Drug Coding: TMS now supports enhanced drug coding using the WHO Drug Dictionary C format.
To read in-depth about what's new in 5.1, click here.
If you're interested in implementing or upgrading to the new version, please let us know.