Anyone evaluating clinical trial, clinical data, and safety management systems today will also need to decide whether to implement on-site or in the cloud. As each year passes, more and more companies are choosing the cloud for a whole host (pun intended!) of reasons.
Over the next few weeks, my colleagues and I will examine 10 common claims that are associated with deploying clinical trial software in the cloud, and do our best to separate fact from fiction.
Ready? Here we go.
Claim #1: Clinical trial software can be implemented faster in the cloud than on-site.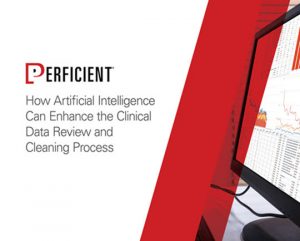 This guide analyzes how artificial intelligence – including machine learning – can be used by pharmaceutical and medical device companies to improve the clinical data review and cleansing process.
Fact or fiction? Fact.
Think about how long it takes to implement the typical clinical or safety system. We're talking about several months, if not years. The overarching reason for the cloud being faster is the ability to reuse tried-and-true processes, procedures, and templates, as well as an optimized IT infrastructure that's already in place.
Below are some specific reasons as to why you'd experience a reduced implementation timeline, if you chose the cloud:
Pre-qualified data centers
Due diligence may be reduced to reviewing the hosting vendor's most recent audit report on the data center
Pre-qualified servers that can be used immediately
No waiting for Procurement to purchase the servers, IT to install them, and Validation to qualify them
Pre-qualified system templates that can be used to clone new environments
Cloning alone can save several implementation days
Pre-qualified clone templates can bypass the need for Operational Qualification (OQ)
In our next "cloud fact or fiction" post, we'll discuss whether clinical and safety systems can be implemented less expensively in the cloud than on-site. Stay tuned. To read past posts in this series, click here.