Ever have requests to furnish old emails, messages, documents to your HR or legal teams? In this digital era, we experience an overflow of electronic information in forms of email, documents, IM conversations, etc. It can be chaotic when you are expected to look for content from several years in the past. Have you ever wondered what it would be like if you had a tool to help with ESI (electronic stored information) to collect, classify, and analyze? Even better, a tool that allows you to then preview and preserve for as long as your corporate policies allow?
The most-affected workgroups are Legal, IT, and the governance, risk, and compliance folks, who must manage all of the data legal and compliance groups are desperately trying to search. Now with Office 365, you can do just that and more. Office 365 equips you with an eDiscovery center to manage preservation, search, and export of content stored in Exchange and SharePoint, across SharePoint farms and Exchange servers.
Your SharePoint Online tenant comes with a pre-created eDiscovery center. What it needs from you is, configuring discovery sets and setting up your search queries in order to export the results. With SharePoint Online you can run an eDiscovery case on SharePoint, Exchange, Lync, and on premises File Shares at the same time, from one management console. This lets you search, preserve, and export all relevant content from all these repositories. For every discovery case, you would create a new case site where it is possible to conduct searches, place content on hold, and export content. There are new capabilities in eDiscovery you need to be aware of:
eDiscovery Sets: Combinations of sources, filters, and whether to preserve content. eDiscovery Sets are used to identify and preserve content.
In-Place Hold: Now you can preserve sites and mailboxes using search filters. Preservation works behind the scenes… people can work on their documents and delete email and not even know it is turned on, but for eDiscovery, you have the data you need in an immutable store.
Query: Search experience which is eDiscovery focused. This reduces the output data and help you find the content you are looking for.
Export: Download all of the data  directly to a local machine with an offline copy of native documents, email PSTs, archived MHT web pages, and CSV files for SharePoint lists.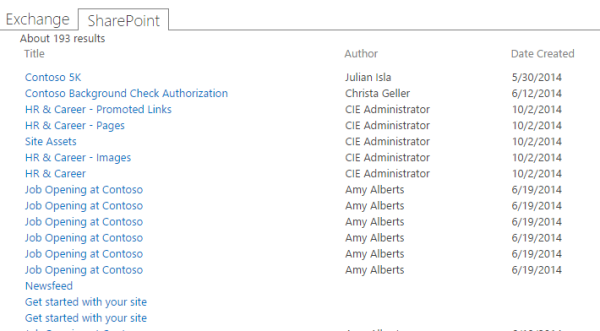 After searching for relevant content in a eDiscovery set, you may want to put content on hold. This enables the original content to always there when your legal department asks for it. The eDiscovery center allows you to put SharePoint sites and Exchange mailboxes on hold, without disrupting the business.  Putting a SharePoint site on hold creates a hidden document library. This enables the user to still modify any content item subject to the legal hold while keeping the original copy of the item in that hidden library. Exchange mailboxes apply the same principle by creating a hidden folder where items are actually moved to when a user deletes an item.
This post guided you through the benefits and process to setup eDiscovery and empower your legal department to query and export content to help in any litigation or compliance needs. In the next few posts, I'll dive into some other advanced security features in Office 365.