Many pharma, biotech and medical device companies are moving towards an outsourced clinical trial management model. This approach eliminates the need for them to run their own trials and, instead, allows them to rely on clinical research organizations (CROs) to conduct them.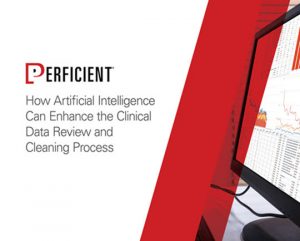 This guide analyzes how artificial intelligence – including machine learning – can be used by pharmaceutical and medical device companies to improve the clinical data review and cleansing process.
In last week's webinar, "Automatically Retrieving and Loading Data into Siebel CTMS from Multiple CRO Partners," Perficient's Param Singh, director of clinical trial management solutions, and Michelle Engler, senior solutions architect, highlighted a case study of a pharma client who, with a near 100% outsourced model, had a requirement to integrate with its major CRO partners to automatically populate their Siebel CTMS solution with sponsor-defined data points.
The automated XML data integration process and approach to populate the sponsor CTMS with CRO data improves efficiencies, reduces the chance of errors, and frees up human resources. It also saves time and money for all the companies involved.
To learn about integrating your CTMS with CROs though an XML integration, you can watch the recording. If you have a CTMS integration requirement, we'd love to put our experts to work for you. Contact us today.