This is Part I in a two part series on how Perficient helped to support ProHealth Care in operationalizing their BI program, data governance, and the Business Intelligence Competency Center. Here, I'll focus on the workstreams and the road map. In Part II, I'll cover the members of the data governance steering committee as well as the initiation of data governance and data governance priorities.
I'd first like to share the approach ProHealth Care and Perficient took to operationalize ProHealth Care's BI program, initiate some of the data governance activities, and help to operationalize the Business Intelligence Competency Center (BICC).
As you can see below, we applied Perficient's Enterprise Information Management framework to focus our activities in developing the road map for ProHealth's BI Program. We were principally concerned with four discreet work streams to stand up the program, in addition to the core work that's been undertaken to actually deliver the population health analytics to support the Accountable Care Organization (ACO).


As you can see, the BI program workstream is really focused around issues such as stakeholder engagement, making sure we foster effective communication after defining a communication plan, that we have our program objectives aligned, and we develop a release master plan for new capabilities that aligns to these objectives. We also need to have effective project management and change management in place because there are significant change impacts to the organization as result of a program like this. The framework introduces the concepts of information and data life cycles, and the methods by which the success of the BI program will be evaluated.
From a data governance perspective, we needed to complete the core foundational activities around data governance, such as developing policies and the data governance charter; this provided focus for the data governance committee and helped to enable their efforts. We then, instituted a number of new processes by which data governance teams began to address data quality, business term and definition consistency, and other master data management issues emanating from the data in scope of this phase of the program. The process for auditing, logging and reporting issues and making decisions about how to resolve issues, was also introduced during the implementation of the program.
There was also a focus around methods to address data architecture via the introduction of more formal process for data modeling and the capture and recording of reference-able technical metadata. This was particularly important as the Epic Cogito data model was extended, since the Entity Relationship Diagrams and associated technical metadata could not be captured natively in prior versions of Cogito. Effecting a robust security architecture and addressing master data management was also a focus, along with the classification of metadata, and in more importantly business metadata, and the role of the data stewards in its management.
From a Business Intelligence Competency Center standpoint, we helped guide the thinking about how to set up the organizational structure and have the appropriate roles and the responsibilities clearly identified. Then, the processes by which the base will be operationalized, and supported by service catalog that's communicated to the end users.
We also advocate the introduction of an architectural review board to make sure that as new requests come in, or new projects are instigated, that we have the appropriate screening around the reference architecture and the solution architecture to actually build the solution.
The fourth work stream, is concerned with the information delivery framework from which this BI capability is delivered to the organization.
So, we developed a road map using this framework for ProHealth, as you can see below. It's rather small and detailed, but I'll describe how we iterated through those workstreams, breaking down the tasks and deliverables that are aligned in six month intervals along with the release strategy (the release of new capability).

ProHealth, like most organizations adopting a data warehouse or BI strategy, was obviously faced with a number of data management responsibilities that they did not historically have to support in the past. I see this often when I work with providers that have eventually done away with a lot of these roles and processes as a result of adopting a Custom-off-the-shelf-software (COTS) strategy and being reliant on packaged applications.
So, concepts such as data linage, life cycle management of data, data classification and data level security and so on, were all sort of new concepts that had to be introduced into the organization and phased in gradually. We applied common concepts to managing data and focused on those most critical to the client's program needs first.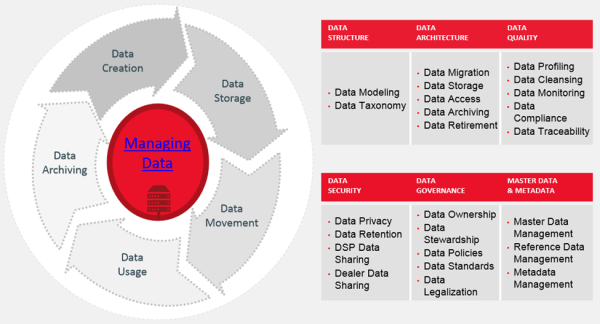 So just a conclusion at a program level, we have developed and executed against a road map that addresses the four work streams of program, governance, BICC and the technical foundation; and we're working iteratively to develop knowledge and capability gradually around comprehensive data governance and management.
In the next blog post, I'll focus on the data governance committee, how data governance was initiated, and data governance priorities.