We see a lot of scenarios where clients are moving their intranets successfully to the Office 365 cloud with SharePoint Online.  This is the easiest, smoothest path to an social intranet on the Microsoft platform, due largely to the ever-closer relationship between Yammer and the rest of the services in Office 365.
That said,there are still plenty of enterprises out there who prefer to either keep their intranet on-premises, or not upgrade / migrate just yet.  Many of those organizations would still like to get their bang for the buck with Yammer, however, and need to figure out a solution for integrating those social features into their on-premises solution.
By far the most common way to accomplish this right now is through the use of the Yammer Embed functionality (or specifically for SharePoint, the Yammer app for SharePoint) to embed specific news feeds on specific sites.  This is easily the most obvious way to "socialize" an on-premises SharePoint intranet with Yammer.
That works, sure.  But it's not all that elegant.  Too, if you're using the Yammer app for SharePoint, this approach forces you to go in and update every Yammer feed when they update the app (which is a pain).
A more forward-thinking, less common but emerging approach to a social intranet is to actually use Yammer as the intranet home.
This is an example of truly embracing enterprise social and may require a complete rethink from a lot of organizations as to how they approach an intranet, but it's the direction things seem to be going.  You make the social network your home, and instead of augmenting informational sites with social feeds, you augment social groups with links to informational sites using Pins and the Info window's rich text / HTML editor feature.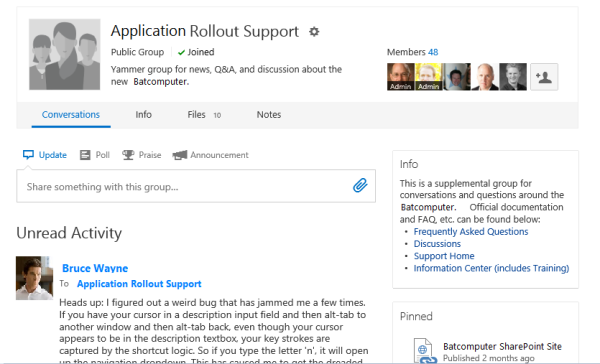 Think about it.  Here at Perficient, we're in the midst of rolling out a new platform for time tracking, financials, and other fun line-of-business activity and reporting.  We have both a Yammer group stood up to support that rollout, and a more traditional SharePoint intranet site.
What we've found in this scenario is that the Yammer feed has actually supplanted the informational site because it's a much faster and more responsive way for people to get answers and collaborate.  Links embedded in the Yammer page direct users back to SharePoint for the informational / non-collaborative content they need, but the social discussion and interaction is now the focus.
Of course, Yammer in general resists (i.e., doesn't allow) any but the most basic customization.  Fonts, styles, navigation etc., are all locked in "as is".  The only thing you can really change in Yammer is the header atop your page.  That means we lose some control over branding, but gain quite a bit in interaction and employee engagement.  For this use case, it's a smashing success.
The question then becomes, "Can this approach work for an entire intranet, and not just one use case?"
To some extent, that depends on the users.  At the end of the day, it all depends on where they go when they log on in the morning.  Email?  The intranet?  Or their social network?  Get the ball rolling with enterprise social and people will start skipping over the intranet– it's almost a given.  Use social to surface intranet content and the line starts to blur… which is a lot closer to where things are going in the cloud than it is to a hodgepodge of on-prem intranet sites with embedded social feeds.