Ok, I've got to admit I really meant to say "Almost everything you need to know in first Release."
The more you share, the more you get. Believe in that? Office 365 community does and as a result , this week Microsoft hosted "Delve Yamjam" to coincide with the launch of the new Office 365 product called "Delve". (If you are new to I highly recommend reading earlier articles here and here to get to know your new friend Delve). Look at a screenshot of Delve from my demo tenant, looks pretty cool, huh?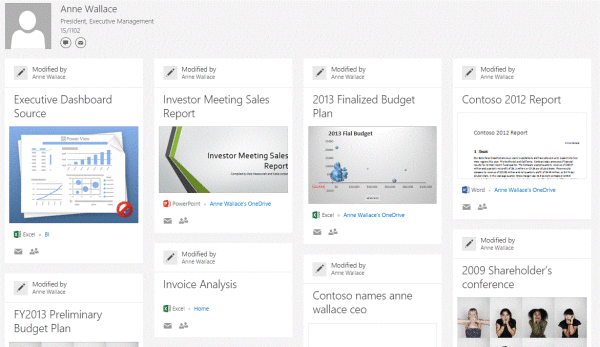 Some great questions asked some great thoughts shared. I summarize here for the larger community. Microsoft responses were from Christophe Fiessinger, Kady Dundas, Josh Stickler, Mark Kashman, Cem Aykan and on the phone Ashok Kuppusamy, Stefan Debald, Fredrik Holm, John Toews, and Robin Miller.
Which Office 365 business plans includes Delve?

Delve is included in the Office 365 E1 – E4 subscription plans (and the corresponding A2 – A4 and G1 – G4 plans for Academic and Government customers respectively)

Can I protect data from ever being shown in others Delve results?

Yes, Delve only shows documents based on permissions set and inherit those from OneDrive and SharePoint online. Also each card will have a sharing control and "who can see this" option
If your folder and contents are not shared with anyone, they will not appear in Delve for anyone. It always respect the permissions set on the items.

Which kinds of data is considered "private data"?

There's both the concept of private data (e.g. files that only you or you and a select few colleagues can see) and private signals (e.g. the fact that you have viewed a particular document, even if it's public). Delve respects SharePoint and Search permissions, so only users who have access to read a document can see that document appear as a result in Delve. Furthermore, details like the documents you view or documents others view are private.

Any Android / iOS apps in the pipeline for Delve?

Yes but no timeline could be provided yet

Not all content (file types) is included in Delve. Any plans for extending the list of file types, and/or list of content sources?

PDF, excel, and word file types are included but there is absence of image files and Visio files.
Yep, we are planning to add more content sources and signals to the Office Graph on ongoing basis
We are working on increasing the content types supported by Delve. We started with an initial list of Office doc types, but we will expand this over time.

Delve site has default branding and does not incorporate our corporate branding that is available on Yammer, OneDrive and Sites menu options in top navigation bar?

The top Office 365 navigation is now theme able and your theme should be available in Delve as well. Broader theming is something we'll be looking at in the future.

Delve was rolled out to our business tenant yesterday. So far it is showing us trending documents that our co-workers are viewing on SharePoint. Is there a way to block certain areas so we don't see our co-workers trends in HR searches?

You can make those documents not shared using the SharePoint permissions UI, but right now, there's no feature to exclude documents from Delve but still available to everyone.  read here for more details.

Will Outlook be leverage into Delve

Outlook as part of Office 365 is already leveraged in Delve.
We are considering adding email attachments to Delve.
Office Graph is driving scenario for OWA. So appointments and attendee information are only leveraged in delve if it's in OWA. You can imagine Office Graph providing insights multiple scenarios in the future…if you haven't already done so check the Office Graph on the blog post from Monday.

Does 'signals from exchange' refer to email relationships (i.e. who the recipients and senders are)?

Yes, and to elaborate, it analyzes the set of people with whom you correspond via email and use this data as a factor to weight your working relationships with your colleagues.
The org structure is another factor taken into consideration

The 5 people to the left – seems to be right for most people (in terms of the ones with most interactions), but I have seen colleagues, with strange people presented as top 5 people.

have a bug where it is showing groups/crawler accounts instead of just people
The people on the left aren't related to them in any way. Known issues MSFT working with no ETA

Will Delve work in a hybrid scenario using my On-Premise systems?

This is place for partner opportunities! But MSFT is working on a solution to feed on-premises (like exchange on premise) content into Delve, but no timeline can be announced.
Plans to release hybrid connector capabilities so that the Office Graph can integrate signals and content from on prem.

Any federation plans across multiple tenants?
Delve supports the most common screen readers, high-contrast mode etc aligned with Microsoft policies in this area.
Is there a way to limit #delve deployment to some user groups in the company? Just to help company to graduate deploy it

An individual user can turn off Delve. This will also control Office Graph as-well.

Are you adding Delve results to the search page, or can we see this as an UI opportunity

Not to SharePoint enterprise search center but we look at that as an opportunity

Item limit for Delve

Delve shows up to 36 items in a view. This is the same when you search in the search box.

Details to the API Roadmap?

Right now you can do graph queries through the SharePoint Search Rest API using "Graph Query Language" as described here: GQL

If a user has permission to access a document/list item but the library/list is excluded from search in list settings will the content still display in Delve?

Nope, Delve uses the same permissions for search..

Do you have plan to return Yammer conversations in any form as Delve results ?

It's something MSFT is actively working on showing the Yammer conversations tied to documents in Delve.

Is Delve going to work with Office 365 Pro Plus client or only Office online, and the other question, is it only working based on files saved only in ODFB and SharePoint online?

Yes if the document is stored in OneDrive for Business or SharePoint Online then yes the Office Graph will index it

What is the best way to introduce Delve within an organization? Are there best practices and change management recommendations?

We are working on an email template that Office 365 admins can then send to their users that helps address exactly what you're asking. It would have info about What, How, Why with links and first steps. This template will be made available to admins via the message center to raise awareness.
We, too, plan to incorporate Delve info and insight into the adoption website we currently maintain here: Discover SharePoint  (with near-term plans to focus on broader Office 365 scenarios).
Hope this provides some insights around how Office Graph captures and renders signals. Check back for more details as I dive more into Delve.