In a few days, Perficient will be attending the 19th Oracle Health Sciences User Group (OHSUG) annual meeting in St. Louis. I have been privileged to attend all previous user group meetings, beginning with the very first one back in 1996 in Ann Arbor, Michigan. Approximately 100 people gathered in a conference room at Parke-Davis (now part of Pfizer), where we discussed the future direction of Oracle Clinical and
decided on the organizational structure of the user group. That year, we also came up with the Oracle Clinical User Group (OCUG) name. Starting two years later, I was fortunate to serve as a co-chair of OCUG up until 2000 and to witness the growth and expansion of the group, which now encompasses many other clinical trial, data, and safety applications. To reflect the group's evolution, the name changed to OHSUG several years ago.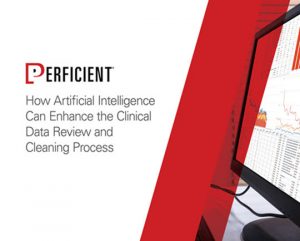 This guide analyzes how artificial intelligence – including machine learning – can be used by pharmaceutical and medical device companies to improve the clinical data review and cleansing process.
Without question, OHSUG is truly vital to the user community. Not only do OHSUG meetings serve as a chance to learn about Oracle's strategy in the life sciences space; I also see it as an invaluable opportunity for our team members to participate in focus group sessions and to share their knowledge and experiences with other OHSUG members. I am a strong supporter of OHSUG, which is why you will see over a dozen of us there in just a few days.
I look forward to seeing you in St. Louis. Be sure to stop by booth #11/12 and say hello.