Just as we gear up for a webinar focusing on the digital experience – scheduled for this Wednesday, more information here – our team has published a new Perficient Perspectives on a closely related topic. Perficient Perspectives are a series of informal Q&A with subject matter experts on hot technology topics and trends.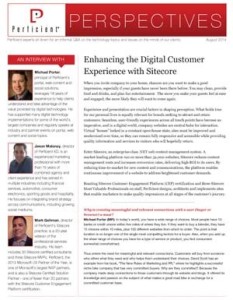 In the latest Perspective, Enhancing the Digital Customer Experience with Sitecore, experts from Perficient's XD, Sitecore, and Portal, Web Content & Social practices teamed up to share their thoughts around why digital experiences and presentation are crucial factors in shaping customers' perceptions of a company. Jason Maloney, Mark Gehman, and Michael Porter explain how Sitecore's web content management system enables continuous improvement of a website to address heightened customer demands, and how Sitecore's digital marketing creates an opportunity for marketers to deliver on their strategic goals, with tools that include engagement automation and analytics.
One quote that really stood out to me from Jason Maloney, on the need to create a digital experience through your website that fits your unique set of customers:
I've always thought of the digital experience, at least the brand's .com, as the centerpiece of its customer experience. If you are in retail, it's your biggest store. In automotive, it's your largest dealership. You aren't limited to stock on hand, location limitations or customer service representative bias. And you can test, learn and adapt in practically "real time" to meet your customer's needs. That said, I think it's critical to communicate the brand's truths to your customers in all experiences. A website should not be the same for all brands because one set of customers is different from the other.
Marketers, I definitely recommend reading the full Perspective, which is available here. Of course, the past Perspectives are worth reading too!
As mentioned, in conjunction with this new Perspective, we've got a great webinar lined up for Wednesday, August 27, at 1 p.m. CT, Using the Right Content Strategy to Create a Personalized Digital Experience. Jason, Mark and Michael will be sharing some key content strategies, best practices and ways to create content that keeps your users coming back. They'll also discuss how tools like Sitecore can help drive the personalized digital experience.