Well I know I'm a little late on this but I figured if you haven't heard already this would be a great blog post to inform you of the latest update to IBM's InfoSphere Information Server Version 11.3.
For those that don't know IBM's InfoSphere Information Server Version 11.3, the following platform is made up of the following applications, Blueprint Director, Information Governance Catalog, DataStage, InfoSphere Data Architect, Discovery, FastTrack, Information Analyzer, Information Services Director, and QualityStage.  With the latest updated IBM has improved and enhanced the already powerful InfoSphere Information Server.  Now one major thing to point out is the huge upgrade jump from 9.1.2 to 11.3.  Now personally I just believe IBM packed in some many updates version 10 would have not done this any justice.  But with the new 11.3 version I want to go through a few new features that should get you really excited.
The thing I'm most excited about is the new features and updates to DataStage and QualityStage with the version 11.3.  A few of these new features and updates are listed below.
REST web services
You can use the Hierarchical Data stage (previously called XML Stage) to design jobs that interact with REST (Representational State Transfer) web services by using HTTP methods. For example, you can design jobs that perform tasks such as posting message to social networking sites, interacting with systems such as Microsoft Sharepoint, or using maps and directions. For more information, see REST web services.
-url option for commands
The InfoSphere DataStage CLI now includes a new option, -url, for the logon clause of the dsjob and dsadmin commands. The option specifies a full format URL for the domain to log on to. For more information, see The logon clause.
Operations Console
If the capturing of monitoring data is enabled, the AppWatcher process is automatically started when the engine tier computer is started. For more information, see Managing the data collection processes.
Workload management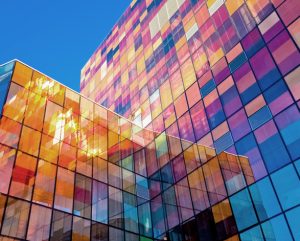 With some guidance, you can craft a data platform that is right for your organization's needs and gets the most return from your data capital.
The workload management system is now enabled by default. For more information, see Administering workload management.
Big Data File stage compatibility
The Big Data File stage is now compatible with Hortonworks 2.1, Cloudera 4.5, and InfoSphere BigInsights 3.0.
Sort stage optimization
To reduce I/O operations for large sorts, the Sort stage converts bounded length fields to variable length before the sort, and converts them back to bounded length after the sort. Sort optimization also improves run time during which implicit sorts are sometimes required, for example, in InfoSphere QualityStage matching and join steps. For more information, see APT_TSORT_NO_OPTIMIZE_BOUNDED.
Improved flexibility in record delimiting
The Sequential File stage and associated import operator can now import records that do not contain all the fields in the import schema. For more information, see APT_IMPORT_HANDLE_SHORT.[1]
Greenplum connector
You can use the new Greenplum connector stages in your jobs to read data from Greenplum databases, write data to Greenplum databases, or look up data in the contexts of those jobs. You can also import metadata from Greenplum databases by using InfoSphere Metadata Asset Manager (IMAM).
InfoSphere Master Data Management connector
You can use the new InfoSphere Master Data Management connector stage in your InfoSphere DataStage jobs to perform read and write operations. The MDM Connector stage can be configured to read data from or write data to InfoSphere MDM. For more information, see IBM InfoSphere Master Data Management.
But what I really love is that now DataStage can write data to Microsoft Excel files by using the Unstructured Data stage.  This is a great new feature especially when you have clients who are looking for data extracts in Excel format rather than CSV.
Now another major change with IBM's InfoSphere Information Server Version 11.3 is that now InfoSphere Business Glossary, InfoSphere Business Glossary Anywhere, and InfoSphere Metadata Workbench are consolidated into the new product InfoSphere Information Governance Catalog.  InfoSphere Information Governance Catalog now allows clients and business to manage their data governance initiatives.
Also, another update to will notice off the bat is the homepage of InfoSphere Data Click.  Now within InfoSphere Data Click you can create and monitor activities.
Well hopefully I got you excited with IBM's InfoSphere Information Server Version 11.3.  Please stay tuned as I will be putting together a new post on the upgrade install to IBM's InfoSphere Information Server Version 11.3.  In addition, for more details in regards to the new features visit IBM' site New features and changes for IBM InfoSphere Information Server, Version 11.3
[1] http://www-01.ibm.com/support/knowledgecenter/SSZJPZ_11.3.0/com.ibm.swg.im.iis.productization.iisinfsv.whatsnew.doc/topics/whats_new_11.3.html