Whether your organization is experiencing rapid growth or you simply need better collaboration, enterprise social is the key to your needs. I gave an overview of the latest services offered in Office 365 in my blog post here and for the purposes of today's article I will focus on the enterprise social networking (ESN) product, Yammer.
Yammer is a private social network that allows you to stay on top of all your collaboration and sharing needs internal or external to your organization. If you have heard or worked with some of the other ESNs like Jive, Salesforce chatter, IBM connections you might have already heard of Yammer. Microsoft has made big leaps in the last year or so in promoting Yammer as the primary social platform in the SharePoint and Dynamics CRM roadmaps. Microsoft has clearly stated that they believe the future of social collaboration to be in the cloud, and are making most of their investments in cloud-based features within Yammer and Office 365. As a result we are experiencing a massive shift from our customers to Yammer as their social platform to enhance their social collaboration practice. The one concern I have been hearing from lot of organizations is around making this transition – from native SharePoint social to Yammer.
What happens to the data in SP social?
Would tags, keywords, likes, and conversations be a migration candidate?
When should we make the switch to Yammer?
How does this affect SharePoint communities of practice?
Remember when we talk about Social in the enterprise we should not focus on the tool, but rather work on the underlying change management process which involves leaders and followers, to promote, adapt and engage in a way which helps streamline business processes. If you are currently using native SharePoint social features, the choice to stay with it or go with Yammer depends on your specific use cases but on a very high level I recommend that you:
Stay with native SharePoint social – if you wish to utilize communities of practice leveraging your existing templates or information architecture AND if your organizational policy does not allow sharing of data and conversations in the cloud.
Go with Yammer – if your organization has high collaboration or knowledge sharing needs and requires employees to come out of the organizational silos and get quick return from the use of unstructured data AND your organization is currently on or making a shift to Office 365 enterprise plans which can leverage from rich integration features coming down the road
How do I make the shift?
Any enterprise social implementation should be handled as a change management process and Yammer is no different. Look to involve users and designate champions or what we call "Yambassadors" who will help drive adoption ensuring high level of engagement from your workforce. Yammer provides various integrations e.g. with SharePoint 2010, SharePoint 2013, DirSync, SSO, Intranets and Portals, activity stream from line of business applications, and API usage for custom integrations.
Here at Perficient we have been involved with spearheading some early adoptions working with complex use cases.  In the case where you are currently using native SP social features, from what I have seen there is no silver bullet, but the preferred route is to start with bringing up Yammer side by side with your existing native SP social newsfeed, and as the adoption grows replace relevant features with Yammer.   Although there is no direct path for migrating your data from the native SP social newsfeed to Yammer there are some considerations that I would like to share.
While making this shift use Yammer embed within your portal team sites, and my sites. It's a simple app part available on your SharePoint site (once enabled and installed by your administrator) which can be configured to point to your home, group or user feed.

If you are heavily using the SP community sites then I would recommend embedding Yammer app and transitioning by starting conversation thread inside of Yammer embed vs. the native SharePoint feed. You will be surprised at how fast people pick Yammer in their everyday life. The striking similarity of Yammer user experience with that of Facebook is an added advantage, you will end up saving a ton on end-user training.
Designate champions from each department or line of business – In order for your employees to embrace Yammer you will require a team of champions who are trained with the social capabilities and help you manage the communities at large. Actively involve them in constant redefining the Yammer communities
Get buy in from C-level executives – Involve senior leadership in all major decisions, you would be pleasantly surprised to see what few posts from your C-level executives can do to drive engagement.
Align social activities with your business objectives
Go for a soft launch – Soft launch or pilot helps you get the buy in from leadership and assist you with focusing on the most relevant Yammer features when you do go live. Here is an interesting article by Steve Nguyen on why NOT to call it a pilot.
Broadcast the Change – To make the biggest impact this message should come from your c-level executives.
Fade off the native SharePoint social features – Once you get some adoption across the organization by utilizing Yammer embed, go ahead and start switching off the native features eventually completely removing them. This article guides you through this process.
Plan on Single Sign On – To ensure a smooth transition plan on implementing Active Directory federation Services (ADFS) for single sign-on (SSO). This reduces user frustration when trying to log on to Yammer. Check here for Yammer integrations
Plan for cutover and staged migration – Your existing social Data cannot be migrated over to Yammer so plan on communicating this to users so they can plan ahead. One possible approach would be to use OneNote for copying and pasting important threads.
Yammer Network feed and Embed – Use the Yammer network feed (yammer.com/#networkname) for full screen activity feed, and Yammer embed in communities of practice for group conversations
Yammer is also a great platform for external, ad hoc collaboration where you can maximize flexibility, and collaboration is more about the conversation than with structured content. So when designing extranets or looking for options to share files, notes, ideas, and meeting minutes think of Yammer. If you are already on Office 365 or looking to move, Yammer will be highly integrated within the whole experience – groups, search, etc. You should expect this integration to be coming very soon this year #worklikeanetwork.
Update 04/29/2014: While discussing social landscape with folks from the Yammer community, Richard diZerega raised a real good point which should be considered while weighing their options between native SP social and Yammer: "From an IT Pro standpoint, native SharePoint Social is a maintenance nightmare. It uses the SharePoint MySites as the database for social activity and makes heavy use of SharePoint's distributed cache. Both of these are very challenging to scale and architect correctly. All that effort for a social platform with capabilities that pale in comparison to Yammer."

How would I know if Yammer is providing any Value?
Yammer provides basic and advanced analytics which you can use to determine the level of engagement across the organization. My fellow co-worker Rich Ross wrote a nice article on the various reports you get out of the box. Out of the box statistics are available for all users of the network while advanced reports are available for administrators via the Data Export feature.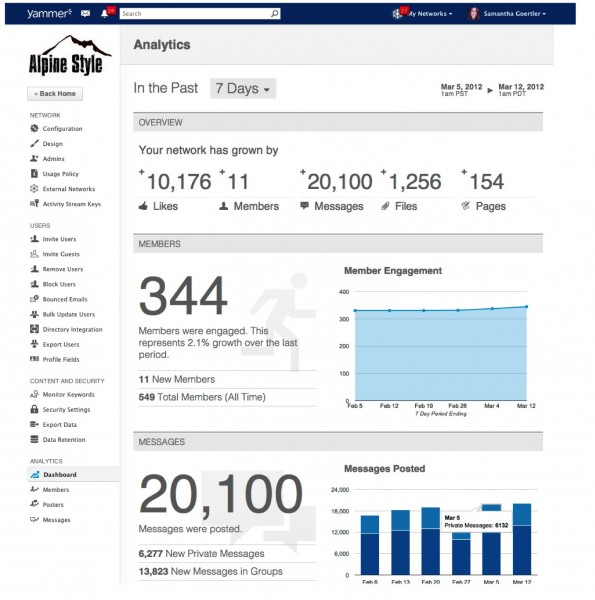 If you like visualizing data and generating cool stuff I highly recommend reading this post from Richard diZerega. He shows some real powerful stuff your administrators can unleash by using the Data Export feature, Excel, and PowerBI. Take this to your next executive meeting and I'll bet you will make some jaws drop!
Bonus: Look at this great infographics on Yammer and #worklikeanetwork
So what are you waiting for, get out there and start Yammerizing your network!!