Everyone has an opinion on "Cloud' and its effect on the business, for some it's scary in terms of data security and for some it's revenue generation and cost savings. There are a number of reasons why cloud computing is so widely used among businesses today. Some of them include
Reduction of costs – lower hardware costs from more effective use of physical resources
Universal access – allow remotely located employees to access applications and work via the internet
Up to date software – ability to get upgraded software and patches seamlessly
Scalability & Flexibility – allows users to switch applications easily and rapidly, using the one that suits their needs best. Allows a business to use, access and pay only for what they use, with a fast implementation time
Though we can go on and on with the benefits, it's also important to know there are circumstances which does not make cloud a best fit for an organization. But isn't that the case for any technology or software? So for the purposes of this post I will focus on the most talked cloud service from Microsoft, Office 365. It's been promoted as SaaS but there are scenarios which I think it fits better in the PaaS bucket, but we'll leave that for a later discussion.
Now I have been in consulting for as long as I can remember which has given me the chance to work across various industries, technologies, and tools but most recently I have been enthralled by Microsoft's latest cloud offering Office 365 and I wanted to cover some compelling reasons for organizations or individuals to move to O365 and what makes office a preferred choice for over 1 billion people
Pricing – The greatest advantage  here being the multiple SKU's being offered providing an opportunity to do a test drive. I know of organizations who have started their cloud journey  by simply enrolling for OneDrive for Business (previously SkyDrive) or Yammer (enterprise social networking tool), or some standalone SharePoint. Can you imagine standing up social networking and collaboration in your organization (small to medium to large enterprise) for as little as zero? Plans are extremely favorable starting from $5 user/month to $22 user/month. For latest pricing and plan details check out Office 365 Business Plans
Availability – "Your complete office in the cloud" is how we think of Microsoft Office 365. The worldwide uptime number for Office 365 for the last four quarters beginning July 2012  and ending June 2013 has been 99.98%, 99.97%, 99.94% and 99.97% respectively and financially backed by SLA of 99.9%. Check  Office 365 Trust Center for uptime numbers disclosed every quarter.
Ease of Use – Same old office applications we have been using for last two decades now online. Whatever device you're working on, Office 365 gives you access to everything you need—your documents, email, calendars, contacts, and team sites all come with you. A mobile or geographically distributed workforce accessing email, documents and spreadsheets online or offline, and collaborating with colleagues either offline or in real time sounds like lot of work but O365 makes it a snap by taking out all that headache of maintenance and constant upgrades out of your hand.
Funding – Now many don't know this but since Microsoft truly believes in the value this provides to organizations they are offering (for a limited time only) funding for qualifying deployments for 150 seats and above. This will help you accelerate your adoption by investing in Office 365 Fast Track methodology. Check Fast track Funding for more details
Cost – This is one of my favorite ones for businesses who require a quick public facing site or are  bringing up extranets for collaborating with their partners or vendors, they can get all of that for no charge (for up to 10,000 users based on the subscription plan)
Application Suite
So that I don't bore with too much details I'll keep it short for the well-known platforms/services already being widely used like SharePoint,  Lync, Exchange etc.
Yammer – social network entirely focused on business. I think this one alone is one of the most riveting of the lot. The way people are hooked onto Facebook they are going to find tremendous power to this tool. Microsoft has been taking big strides in this area by deprecating SharePoint 2013 newsfeed and replacing (Go Yammer! Is the slogan) it with Yammer ($1.2B acquisition made in mid of 2012). There are some upcoming features announced recently which includes a much tighter Yammer integration with Outlook Online and O365 sites.

If you are anything like me this one is an "Aw" factor of O365. Codename "Oslo" it is a proactive personalized search and discovery using office graph. A strong algorithmic approach for surfacing tailored feed is truly a mark of next generation technology.
Group Experience and Inline Social – A cross-Office 365 concept that will unify people, profiles, conversations, email, calendars, and files across the entire set of Office 365 applications. Creating a group anywhere in Office 365 will automatically provision a corresponding inbox, social feed, calendar, and document library that group members can use to get the job done.
How do you like weaving your social activity into apps you use daily like Word, PowerPoint etc. Adding conversations to documents in SharePoint Online and OneDrive for Business. View conversations side by side. That means whether you are working from within Outlook, or Yammer, or a document you get a similar experience.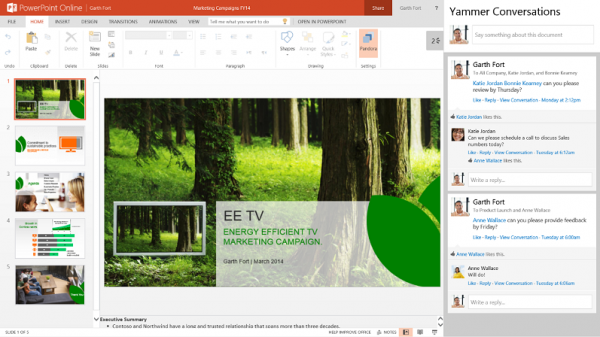 Pick your conversations from where you left from within any of these places!
*To dive deeper I highly recommend you look at the Office Blog
One Drive – Divided in personal and business SKU's. OneDrive for Business (formerly SkyDrive Pro) is personal online storage for a your employees.  It's the place where people can store, sync, and share their work files across multiple devices with ease and security. You can then collaborate with others in real time right from within Office and edit documents from virtually anywhere via a web browser in real time using Office Online. And yes starting April 1st,2014 you will have this as a standalone service. I have seen many organizations using  OneDrive as the primary use case to get a foot in the cloud and once  accepted well within groups and teams reach out for more meat available on  O365. Check out the OneDrive blog for more details
Office Applications – The  general suite of office applications we are so used to in our daily lives so much that we take it for granted. it'll be almost impossible to work on  presentations, financial modelling, or lot of other stuff without the  availability of these applications.
SharePoint – Collaboration platform which existed since the early 2001. One of the biggest players  for Microsoft in the enterprise world. Also comes in standalone plans  "SharePoint Online"
Lync – Instant messaging and  video conferencing technology widely used in enterprises
Exchange – Access to email, calendar, and contacts across all devices while protecting your mailboxes  with anti-malware and anti-spam filters
Other benefits –

Outsource infrastructure so  you can focus on core business.
Electronic signature  – Microsoft and DocuSign entered in a strategic partnership providing you eSignature apps across Office 365
Cloud based Business Intelligence: Power BI – Register on premise data source with Data  Management gateway and with some configuration you can gain insights from  data, working within Excel to analyze and visualize the data in a  self-service way even on mobile devices.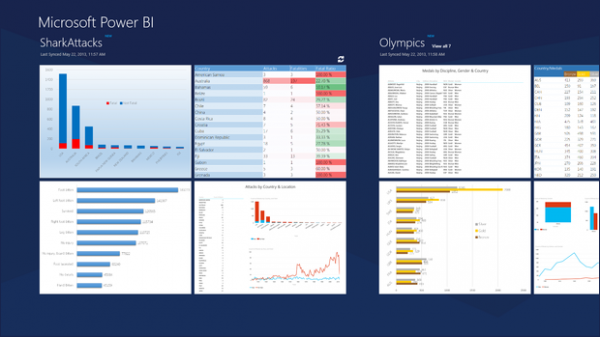 Analysis with Google Apps – I  encourage you to take a look at this article Office 365 vs. Google Apps compares O365 and Google Apps.
Microsoft recently made a firm and vocal commitment to another SharePoint on premise release and I think lot of folks started reading between the lines – does that mean end to on premise support? no more version upgrades? But as we all understand on premise isn't going anywhere soon since there are businesses with tight governance restrictions and compliance issues. But at the same time we also know that the weather in SharePoint land is certainly getting "cloudy".  We at Perficient have a great deal of experience deploying, managing, and migrating to Office 365 helping our customers take the road to success and we are particularly very excited to the see the future and being able to influence Microsoft roadmap for cloud.
Leave your feedback or comments on how you currently use these features and how is it helping your organization. Are these reasons enough for you to stir things up at your next executive meeting? What maturity level is your organization at? Do you feel Office 365 meets your needs?