Jeff Schick is the VP of Social Software at IBM and he led us through where social is going.
The first thing to know is that Connections is now rebranded.  It's all an integrated solution.  Mail, meetings, docs, etc.  It's all part of the Connections brand.  Given what we just saw from a new social mail, this makes sense.  It also sets up IBM to better compete with Google Apps and with Office 365 as Jeff noted.
Here's 2014
Enhanced offerings

New web mail
meetins and chat with enhanced audio
Enhanced guest model
continuous delivery

Enhanced delivery options

PaaS with Domino on Softlayer
Dedicated options
SaaS gives better economies of scale
Enhanced migration and onboarding

GRC Compliance

Solutions of social content
Domino on the Cloud
Yes, you can put Domino apps on dedicated Softlayer images.  Also allows ISV to deliver Domino based solutions from IBM's Cloud.
Mail Next
This is a brand new COMPLETE revamp of mail.  It's built on the assumption that a lot of people waste a lot of time at work and mail has a lot to do with that.
Stats:
$1,250 per user in annual productivity lost with spam
$1,800 per user on unnecessary emails
Beta will be coming out in the first half with a launch in the second half of 2014.
Quote: Will be cloud based. Will support off line replication.  This is predicated on the Domino Server infrastructure.
They may be changing the experience but it's built on the known infrastructure those in the IBM ecosystem already support
Notice:
uses the concept of personal debt. IT's the things I'm owed and the things I owe others. Makes you more productive within email
Can interact with people via email in the picture above.  Mouseover on a user will open up ways to interact with that person
You still have the traditional inbox view
UI allows for click to flip and see more info without losing context on the other views
Calendar view is more of a gannt chart
This will support tablets and the gestures approach to interaction.  It's not just another site. Want to make a great experience with tablet.  As a matter of fact, they started designing for mobile and tablet
What's New let's you see new updates but still captures the thread

You can mute a thread if it's no longer relevant

Team analytics lets you see how you are connected to the people in a meeting. Click on a person to see the org chart and where they stand.  It does it in a context of how they relate to you.
Search

Faceted search improves the experience.  Jeff doesn't see this as just faceted search.
"it's true findability"  It was a major design point.

It's completely integrated with your social network.

One click adding email or files to a community

Inline attachment preview let's see the files

cool design is the idea that you seem to see all files within the entire thread of a conversation
Sametime Next
Saw a release of Sametime 9 in fall of 2013. That included:
Modern UX
Enhanced audio to bring them up to parity with Webex
Practical desktop video
surfaced social much better
Fully mobile supported
Ready for the cloud – e.g. Meetings had the same changes, not just the messaging meetings.
Social Document Strategy
Light weight web editing.  Have public or private cloud options.
Lets' you comment on content
Attention management
Author awareness features
Of course it allows for concurrent editing
Supports mobile for the review, online and offline viewing, etc.
Desktop is still supported with the open office foundation
Connectors still there to access and sync to Connections Files
Will integrate to Filenet via the Connections Content Manager (CCM)
They are also spending a lot of time working on the API's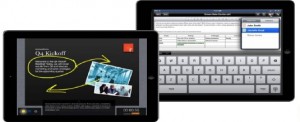 Connections Next
Over 50,000 companies have Connections.  It's embedded in many portals and reporting tools like Cognos.
Internal and External collaboration

Collaborate securely with just one invite via an email address
Has a variety of admin controls
been doing this in the cloud but now it will be available on premise
but the security enhancement go to both cloud and on premise
Makes it easier to put one single instance and support both internal and external collaboration
This gets past a huge issue they had before so kudos to IBM for this

User Engagement

Completely customize the activity stream. This is a key enhancement because you define the experience and filters.
The filter is also a navigation model to return to something in your stream and to return to a community or task for example.
Supports inline view of rich media, documents, etc.

Notification Center

Puts laser sharp focus on that which is most important. Setup notifications on that which you want to see.
It will be real time.

Mobile

Mark favorite content
Personalize your navigation bar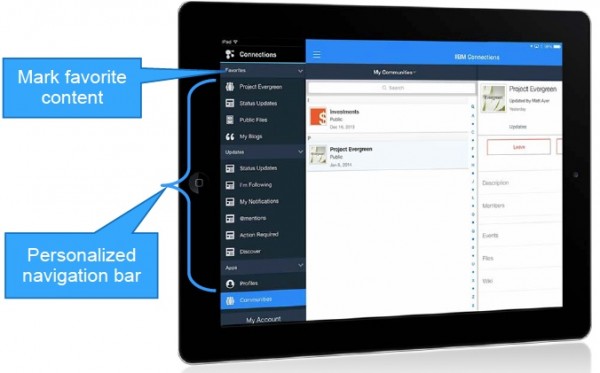 Rich Media

Now has galleries
snap a picture and upload
put it in any gallery (community, personal files, etc.
This is a part of Files but just enhances it.
It's also part of the Files sync capabilities

Connections Content Manager (CCM)

Desktop integration is coming
Connectors will finally be unified.  One set of connectors not a bunch of individual functions
You can have a grid view of thumbnail images
Note: every Quickr customer is entitled to full connections and CCM)
You can see usage metrics.  Part of the Cognos reporting tool like the social analytics
Client Success Program
It's a new program that spans the entire customer base.  It's a cloud program. IBM wants to make sure that as you move to the cloud, you have access to the right experts and tools. They want to make it a seamless experience in moving to the cloud.
Open API's
Connections supports LTI compliance (easy integration to learning management systems.)  Also supports Open Social and a whole list of apis.  This open standards and api support should make it easy to integrate to a variety of things.