Admins, Support Managers, and Agents rejoice! The Spring '14 Release is PACKED with Service Cloud goodness so I wanted to share my picks for the most interesting/useful features. Of course, you can also read through the entire 325 pages of Release Notes if you love geeking out on new features like I do.
Business Hours for Milestones
First up, a feature that's near and dear to my heart gets a huge improvement in flexiblity: you can now apply different business hours at the individual milestone level. You can now set your "first response" target for P1 cases to absolute 24/7 time, but set the target for lower priority P3/P4 cases in business days.
Multi-monitor Support in the Console
If you're all about productivity and efficiency, chances are you work with multiple monitors. Now you can pin, move, and re-size almost every component in the console; you're no longer restricted to a single browser window/monitor.
Topics on Cases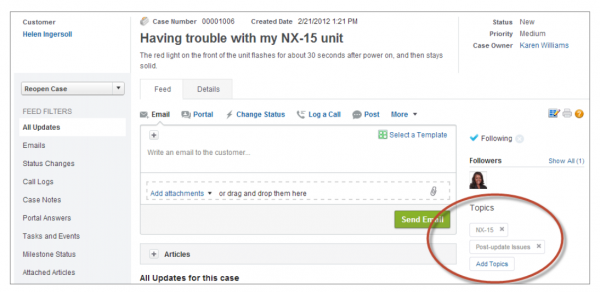 Who doesn't like tagging records on the fly? With the topics widget for cases, you get free-form tags for cases, but the best part is that they tie into topics on chatter posts, files, and all other data in your Salesforce org. Use topics for tagging suspicious cases that might be related to a specific issue or just grouping similar cases you want to come back to.
Report on Knowledge Data Categories
If you use Knowledge (and if you have customers, you should be) you can now reference data categories in your reports. This is huge as it opens up the ability to report on article effectiveness by your different product lines, article types, or whatever else you use categories for.
Social Customer Service
With Social Objects and Social Publishers – agents in the console can now manage social channels efficiently and effectively. The Social Customer Service feature is a way to connect your Radian6 social listening power with the efficiency and flexibility of the console and the case feed. It's not enabled by default though so if you have Radian6 and use the console, ask support to enable this feature post Spring '14.
This is just a sampling of some of the great features coming in Spring '14, which is shaping up to be an absolutely awesome release for Service Cloud.
As always, let us know if you have any questions or want to share what you're excited about for the next release.