One of the challenges with managing social media is getting your message out to the many, many social platforms, such as Facebook, Twitter, Google+, Pinterest, etc.  I wrote recently how I use IFTTT to send blog post announcements to various sites from our WordPress blog.   Companies like HootSuite have created platforms that solve this particular problem.  So using HootSuite and others, we can easily publish and manage content across lots of social platforms.
However, none of these platforms that I know of let you cross over from external social sites to internal social sites. If you want to publish to Facebook and your internal social platform, you had to do it twice.  Not any more.  HootSuite has announced a new integration with IBM Connections.  This program is in a beta stage right now, but the potential synergies look good.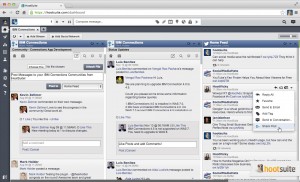 According to HootSuite, here are the things you will be able to do with this new integration:
Access IBM Connections communities and content in HootSuite streams, alongside social network streams for Twitter, Facebook, LinkedIn and more.
Share social content and messages from Twitter and Facebook with colleagues and communities in IBM Connections.
View and interact with IBM Connections community updates, including viewing and leaving comments, viewing and downloading file attachments, liking posts and more.
I didn't see an anticipated date for a non-beta release.  You can request access to the beta version here: HootSuite IBM Connections Beta.